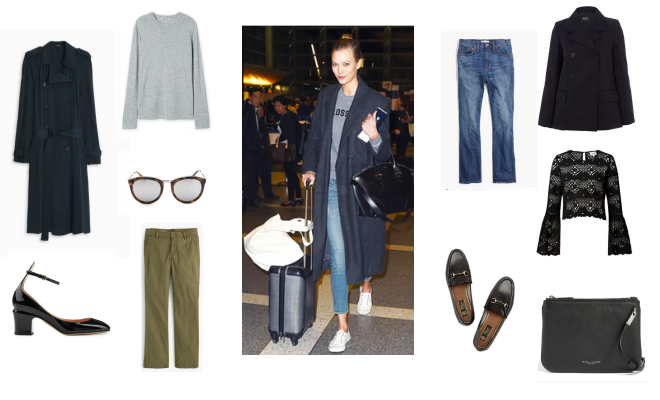 Ultimate travel wardrobe #jetsetstyle.
|
It seems everyone is jetting off somewhere glamorous.  Paris, London, New York.
So I've had quite a few requests for the ultimate travel wardrobe.
I love to plan travel wardrobes.
The secret?
Stick to our favourite chic de la chic colour palette.
We are talking black, brown, navy and grey and white. Duh.
And layer, layer, layer everything.
Please don't go off piste and add in florals or bright colours. (Yikes!) (it makes life so hard. Plus you'll look like a ..tourist!!)
First pack all your updated basics:
That would be a roundneck white tee, flare jeans, white coated jeans and a stripe tee ( Shop here on FiFiReport).
You need a navy peacoat and/or military blazer and a long trench.
A flirty skirt goes from day to evening in a blink of an eye. And because it's flared it works with flats or heels. Works on every size and shape.
Taupe crop chinos work with the lace top and heels or with a knit and sneakers.
A grey slouchy sweater is great by itself or over the T-shirt, on the plane, with the skirt and pants.
A navy rib knit is a fab layering piece.  Totally trans-seasonal.
Toss in a lace top for day to evening.  It will work miracles with chinos or the black skirt or jeans.  Just add heels.
And when you go out at night you can toss the chic trench over your shoulders.
You can layer the white tee under the slip dress or under the sweaters.
(If a slip dress is not your style then head to Cos for the best dresses at the right length with sleeves)
In terms of shoes: you need patent block heels. Perfect for cobblestones, walking miles and always chic.
Love the Valentino or try here for a cheap chic option.
As you know white sneakers work with everything from the flirty skirt to jeans.
And Gucci loafers are THE most comfortable shoes to go with chinos or jeans.
You need a cross body trio bag from Celine  or this one from Marc Jacobs. It will work from day to evening.
Toss all your other stuff in a great day bag from Trenery. It has a sneaky zip. In brown or black here from Baggu.
Wrap yourself up in a gorgeous 1796 scarf : It's the best, folds into nothing and will go from the opera to plane. (comes with its own little zip travel pouch; yes, please!).
Et voila : Chic but chic travel wardrobe done!
You might even get upgraded….
Save
Save
Save
Save
Save
Save
Save
Save
Save
Save
Save
Save
Save
Save
Save
Save