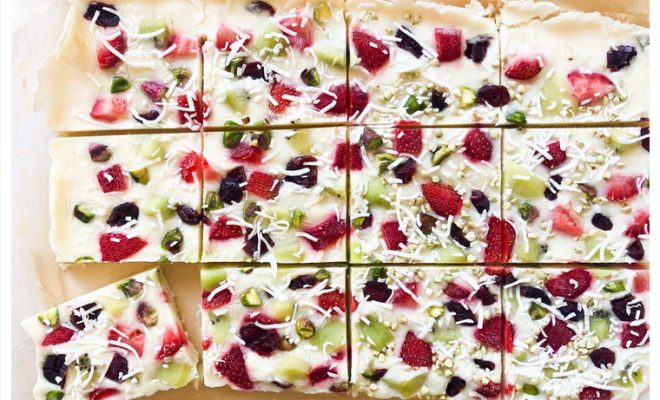 White Christmas Yogurt Bark #BrendaJanschek.
|
Love this recipe : it's a healthy version of hedgehog slice replacing the sweetened condensed milk with yogurt.
Adulterated from brendajanschek.com  who says 'the beauty of this recipe is that once Christmas is done you can experiment with lots of fun toppings and enjoy a delicious and cooling snack right through the summer. Combine mango, macadamia and coconut, or dark chocolate chip and banana through the yogurt and top with mixed frozen berries. '
You need for about 12 pieces for 36 supermodels:
2 cups natural Greek yogurt
1.5 – 2 tablespoons maple syrup or your preferred sweetness
1 teaspoon vanilla extract
1/2 kiwifruit, chopped into small, bite sized pieces
5 x strawberries , hulled and chopped into small,bite sized pieces
2 tablespoons dried cranberries
1/4 cup pistachios (option but the colour helps make it Christmas-y)
1 tablespoon shredded coconut , optional
1 tablespoon buckinis, activated buckwheat optional but add extra texture
• Line a rimmed baking tray with parchment paper.
• In a small bowl, mix together the yogurt, maple syrup and vanilla extract.
• Pour the yogurt into the centre of the tray and spread evenly.
• Gently press some of the pistachios and cranberries into the yoghurt. Make sure you save some to decorate the top.
• Sprinkle the buckinis / activated buckwheat over the top of the yoghurt if using.
• Place kiwi fruit and strawberries onto the yogurt.
• Sprinkle with shredded coconut if using.
• Freeze until completely solid (2-4 hours, until firm)
• Cut into sections and serve.
• Store in the freezer.
• Delicious !