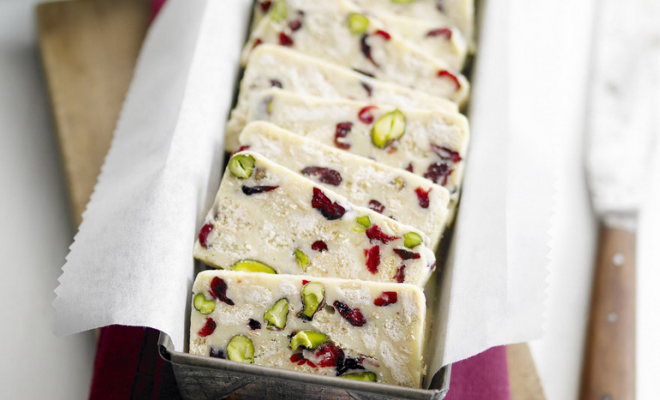 White chocolate, cranberry & pistachio hedgehog slice.
|
It's Ye olde worlde Christmas hedgehog !
I have whipped this up over the years because it's quick and easy.
Oh and it's sensational : outrageously sweet and delicious.
It looks so chic wrapped in simple tissue paper and tied up with raffia ribbon to give as a gift.
Adulterated from Womens Weekly  it's perfect when you're busy because you don't need to use the oven and bake it . Just whip it up and toss in the fridge. Done.
You need for 12 slices
3/4 cup (180ml) sweetened condensed milk
60 g butter, chopped
180 g white eating chocolate, chopped coarsely
150 g plain sweet biscuits
1/2 cup (65g) dried cranberries
1/3 cup (45g) roasted unsalted pistachios
• Slip into Stella McCartney gold one shoulder dress
• Pull on Balenciaga jewelled heels
• Grease 8cm x 26cm bar pan.
• line base with baking paper, extending paper 5cm over long sides.
• Chop up white chocolate into chunky pieces. Taste to make sure it's delicious.
• Chop up the pistachios a little so you can see the green inside.
• Stir condensed milk and butter in small saucepan over low heat until smooth as an Hermes cuff.
• Remove from heat; add chocolate, stir until smooth as your face after botox
• Break biscuits into small pieces by putting a plastic bag or smashing with a rolling pin or whizz up so they are like chunky breadcrumbs; place in large bowl with cranberries and nuts.
• Stir in chocolate mixture and give it a good stir.
• Spread mixture into pan, cover; refrigerate about 3 hours or overnight until firm as Nicole Kidman's face.
• Cut into 12 slices.
• Wrap in tissues and give as presents !