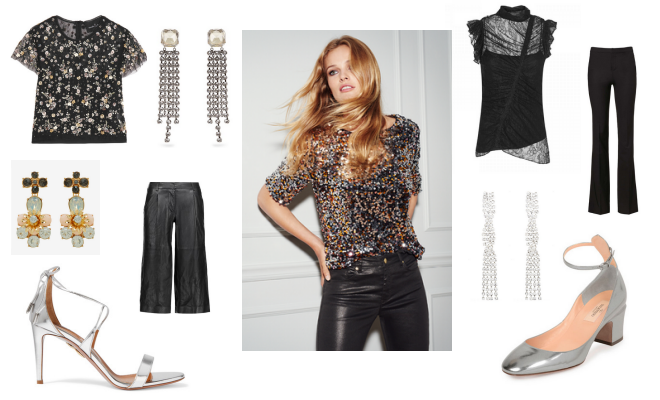 Silver + Sequins + Black pants = Effortless #partydressing.
|
Party dressing can be easy as guzzling down a glass of French champagne. Hic.
The secret?
Ditch the idea of a dress : too hard to fit, too formal, too dressy and always toooo short non?
My advice: invest in fabulous sequin tops and chic sheer blouses.
It's table top dressing at its best !
The focus and attention – sparkles – is on the top of the body .
And non de la non basic pieces on the bottom. i.e your black pants.
Investing in tops means you get twice the mileage from your wardrobe. #nothatboringdressagain.
You can mix and match them with pants, skirts and jeans ( see here).
Styling tip: stick to silver , black and white. It's always chic, modern, ageless.
Black is never boring when there is texture ! Shine! Embellishment!
Party dressing recipe:
Grab a lace/sequin/statement top. Make sure it's in a new shape: loose and skims the muffin bits.
Pull on your favourite black pants.
Slip into major statement heels and toss on big sensational glitter earrings.
Done : Effortless. Easy. Chic.
You're welcome.
#Getshopping
Your shopping list:
Cheap but chic top from Netaporter, Velvet Reiss pants, Seed earrings, Aquazurra Silver heels or love these ASOS, Madewell or Stuart Weitzman.
Camilla Marc top, Leather pants outnet, Country Road heels, Isabel Marant earrings.
Elizabeth James white top, Barneys earrings, Scanlan Theodore pants, Stuart weitzman heels or for Cheap but chic try Michael Kors or Ninewest.
Stylebop blouse, C Road black pants, Colette $9 earrings (!) Valentino heels onsale.