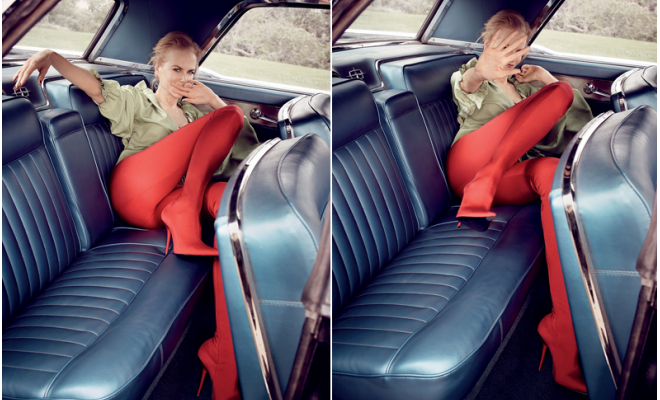 They said whaat?! Celeb quotes.
|
"Well, Keith always says to me, "You stay raw and sensitive, and I'll buffer things for you," which is a beautiful offering. He is always told, "You're so tough." And he says, "That's not what I want for you, Nicole. You don't need to get a thick skin."Nicole Kidman To Instyle
"I wouldn't want my dog to have to see me naked. It's like half melted, vanilla ice cream with little hairs stuck to it. That's what I look like naked." Blake Shelton, on whether or not he lounges around naked at home, to PEOPLE
" … The director said something f—– up to me and I said, 'That's sick, you can't talk to me like that,' and then I was punished, and I got afraid that I wasn't going to be hired again. — Jennifer Lawrence, on the backlash she faced after standing up to a film director, to The Hollywood Reporter
"But a man who mistreats women is not oversexed. He is abusive." Angelina Jolie, on sexual violence, at the UN Peacekeeping Defense Ministerial Conference
"This is a door that will not be closed, we've got our foot in their now."Meryl Streep, praising the swift action that's been taken against disgraced movie producer Harvey Weinstein, to Vogue
"In essence … all true."Joe Biden, on his and President Barack Obama's memes depicting their bromance, to NBC News
"I do love them unconditionally, and I try, when they do something wrong, to say, 'This doesn't change the amount of love in this house for you, but you've got to do your homework.' Because I think that also makes a child feel safe." Julia Roberts, on how people "confuse unconditional love with spoiling," to Good Housekeeping
"If I'm in a situation where I have equal experience to the actor and my role is just as significant, there is no reason why I should be paid less. It's not really part of my world anymore, because I just won't accept it." Jessica Chastain, on combatting Hollywood's equal pay gap, to Town & Country
"All I knew was that I was lucky and I had better not f— it up." Kate Winslet, on landing her first film role.