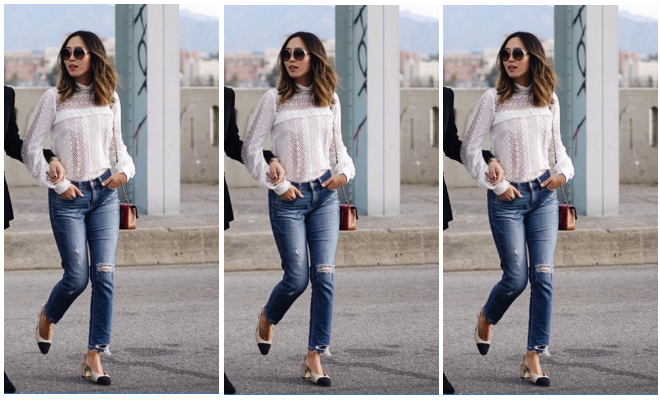 Steal her Style : Blouse + jeans = perfect.
|
Here's the thing : fashion is all about mixing it up.
A pretty feminine blouse , ripped jeans and classic demure shoes.
Elegant shoes joosh up the jeans.
And the ripped jeans add an all important edge to the old lady shoes!
The pretty blouse with a slightly boho look adds a little feminine sexy touch to the jeans.
( and that's as far as you want to go in the boho department).
Note : This season it's all about the 80's romantic blouse a la Princess Diana. Gulp. It's about covering up : long sleeves and high neck. #everybodykeepcalm.
The caramel bag and black sunglasses tie it all together.
Styling trick: tuck in the blouse if your jeans have a higher waist. Or leave it hanging out if not.
You can ditch a belt because the shirt can be fussy.
Don't worry about matching shoes and bags. It should all tone in together.
NB: I found these Chanel inspired shoes in Midas.
Now you can steal her style !
White blouse from SABA and try similar here at Need Supply, Maje and See by Chloe.
Jeans from Country Road.
Shoes from Midas or head to Chanel.
Shoulder bag from Givenchy or try similar taupe small bags here at Trenery or Les Essentials.