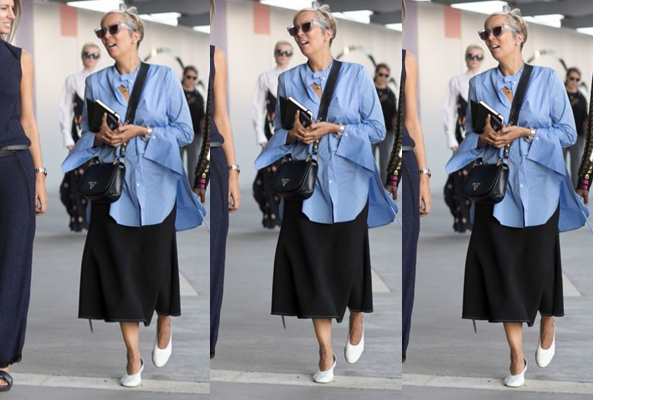 Steal her Style!
|
Oh la la it's a skirt !
We've talked about denim jeans and how to wear them so can we now chat about a long skirt?
This look is all about the new proportions.
It's all about oversize shapes and different ways of layering.
So you look effortless. And modern.
As in the opposite of daggy and dated arrrrg… NOOOO !
This could be actually be a styling trick of the week.
But you today you can also steal her style.
The trick?
You want a longer flirty black skirt.
And a big oversized blue shirt , worn hanging out over the skirt.
Undo the cuffs for drama and open the collar for an insouciant look.
Toss a black saddle bag across your body : it picks up the black of the skirt.
Add white shoes to lighten it all up ( they seem to work with the white buttons on the shirt).
NB: if you can't do flats with just grab white heels or brogues.
Throw on some sunglasses in a lighter frame
Done !
#getshopping.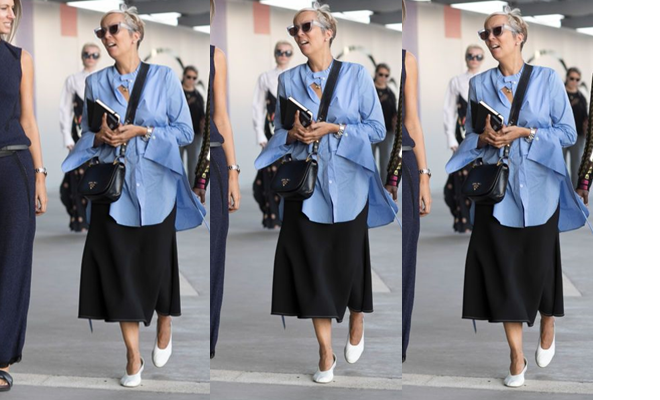 Black skirt from Country Road here and here and Dion Lee and Bassike
Blue shirt from Theory, Uniqlo mens (Medium) Bassike or cheap but chic at Farfetch.
Black saddle bag from Marc Jacobs or Prada .
White shoes from Cos instore or witchery.
Sunglasses from Sunglass hut