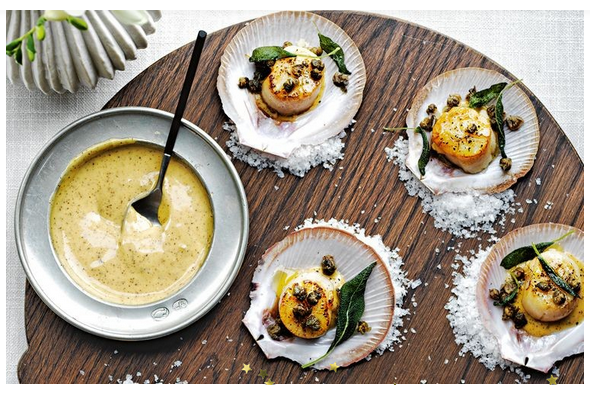 Scallops with champagne & sage butter #Delicious.
|
Totally easy to whip up and so chic with a glass of bubbly : It's party season !
Adulterated from Delicious magazine.
You need for 10 fashionista or 45 models:
20 scallops, on the half shell, roe removed
100g unsalted butter, chopped, plus extra 20g, chopped
1 bunch sage, leaves picked
2 tbs baby capers, rinsed, drained, patted dry
1 cup (250ml) Champagne or sparkling white wine
1 egg yolk
2 tbs olive oil
• Throw on divine party Saint Laurent black velvet  mini dress
• Pull on outrageous Balenciaga jewelled heels
• Remove the scallops from their shells.
• Wash shells and pat dry with paper towel. Set aside.
• Remove champagne cork from bottle. Drink. Set yourself aside to dry out.
• Place butter, sage leaves and capers in a saucepan over medium-high heat and cook, stirring occasionally, for 6 minutes or until capers and sage are crispy as a Celine white shirt.
• Using a slotted spoon, remove capers and sage, and set aside on paper towel to drain.
• Return butter to heat and add Champagne.
• Swirl to combine, then cook, swirling the pan occasionally, for 6 minutes or until reduced by half. Half size like a supermodel after Victoria's secret show.
• Place egg yolk in a bowl and gradually whisk in butter mixture until well combined.
• Return butter mixture to pan and cook, whisking constantly, for 1-2 minutes or until thickened slightly. As you will be after dinner.
• Transfer to a bowl and set aside.
• To cook the scallops, heat oil in a frypan over high heat.
• In 2 batches, add scallops and cook for 2-3 minutes, turning halfway, until golden and slightly translucent in the centre. Like Donald Trump.
• Add half the extra butter to the pan and melt.
• Spoon over scallops. Repeat with remaining scallops and remaining extra butter.
• To serve, spoon a teaspoon of Champagne sauce in the centre of each shell, top with a scallop and drizzle with a little pan juices.
• Accessorise with crispy sage and capers.
• Serve immediately with remaining Champagne sauce on the side.