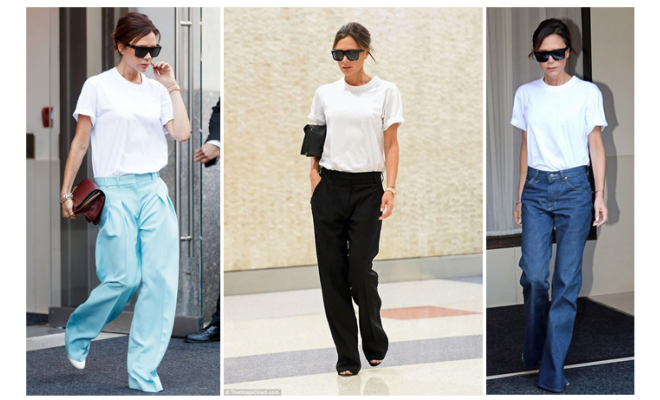 Steal her style ! #VictoriaBeckham.
|
All I want is a simple white tee.
Perfect on its own, tossed under a trench or layered under a blazer. So 90's, so right.
In a season of funky florals and over the top kooky prints it's low key chic that is so appealing.
Who would have thought Vicky B would have nailed the look.
Her baggy white Tee and high waist black pants look effortless.
Old classics. New shapes. New proportions.
Baggy + baggy looks great.
Trying to find that white Tee has been tricky.
Hate see-through fabrics so you can see the 'situation'. No thanks.
Hate a wide neckline. Hate it too tight. And clingy. Yikes.
I was on the hunt last year to find a white tee with the perfect FiFi approved neckline.
With the perfect baggy slouchiness. With the perfect sleeve.
Now it's been found thank you Victoria.
Now we can talk about her pants.
I have been pondering what black pants I need to buy to joosh up the wardrobe.
I think they should be baggy, high waisted, pleat front . Can be short or worn long.
Love the way Victoria throws the pants back with sweaters, tee shirts, white shirts and heels or flats.
Now you can steal her style !
Voila 3 white tees and 3 black pants. Add a designer clutch bag. Sunglasses. Done.
Get shopping.
Victoria Beckham white tee,  Raey white frayed tee, Bonds white Tee, or try Rag and Bone here.
Marks Spencer pants, Reiss pants, Country Road pants.