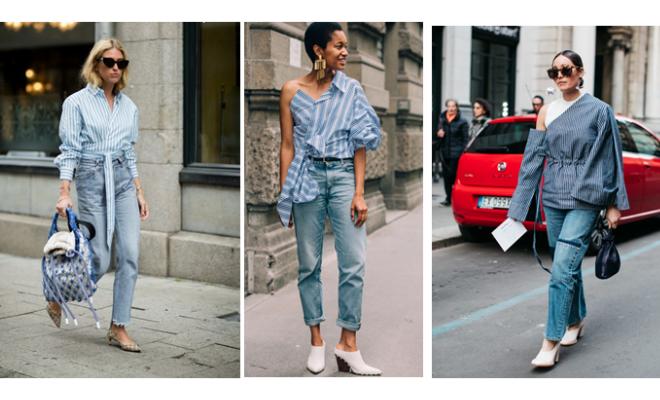 Steal her Style !
|
I am still loving a stripe shirt.
FiFi Report readers know I've been banging about a stripe shirt forever.
Since way back in 2015 when we all drooled over the fabulous Celine blue stripe shirt here.
Good news ! The stripe shirt is hanging in there on the groove richter scale.
Meaning ?
You will still get seasons of wear if you invest right now, like totally toute suite.
Sometimes when I take people shopping they don't get it. They see the stripe shirt sitting on the hanger.  And think it's a bit corporate officey. Think it's a bit boring. Can't even imagine it's actually even cool. Whaaat?!
Everybody keep calm.
You've got to know how to wear it.
It's about tossing a stripe shirt with high waisted faded jeans. #theyloveeachother.
It's about tucking it in and twisting it and pulling it off the shoulder.
It's about pulling those cuffs out under a blazer.
It's not about a boring stripe shirt. Mais non!
If you can't rock a ruffle or anything tricky – calmez vous-  just steal one from menswear as I did last year with this one from Uniqlo.
This shirt will instantly joosh up your monochrome wardrobe. It's a great way of adding prints (!) to your outfit without,  you know, resorting to those all scary frou frou florals.
Now you can steal her style!
I saw this cheap but chic wrap shirt in H&M.
But you can also invest in a ruffle, off the shoulder or wrap and tie shirts .
The one from Zara below does all sorts of things ( check it out the ways to wear it here!).
Styling trick : Add white shoes!
BTW The string bag is back – more on that later – but in the mean time shop it here.
Your shopping list:
Stripe shirt from H&M, Country Road, Seed, Netporter, Matches, Zara.
White booties from Country Road.
Jeans from J Crew or camilla marc.
String bag from here and Asos.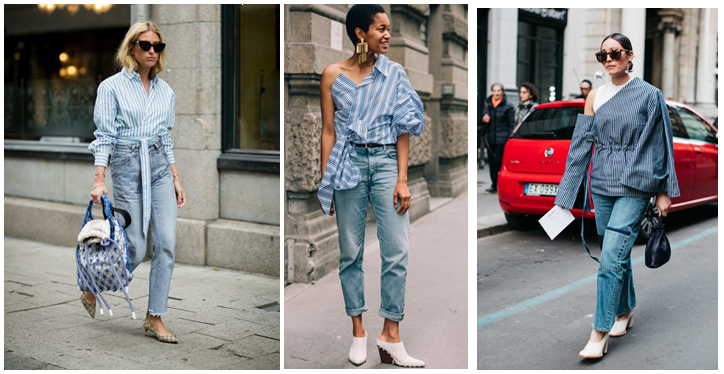 Save
Save
Save
Save
Save
Save
Save
Save
Save