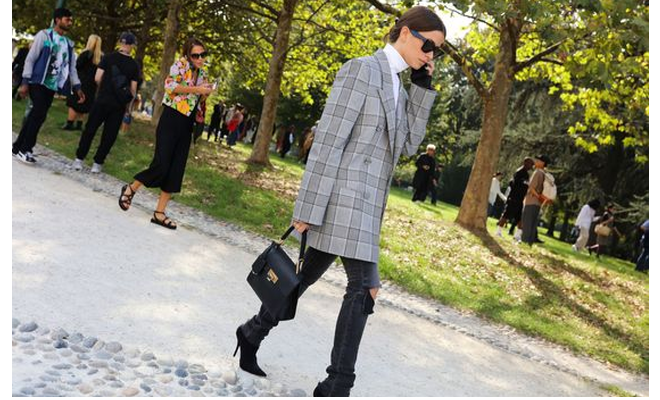 Steal her Style !
|
The blazer is back.
In fact what I mean is an oversized long blazer is back.
You know those short, tight, shrunken blazers sitting in your wardrobe?
Leave them there.  Soz.
What you need now is a long very 80's /90's BIG blazer.
It's all about a shoulder pad, a big slouchy size and a dramatic shape.
It might be in plaid check. Or simple black. I like it with slight nipped in tailored shape.
It should be double breasted.
Most importantly it should be long.
Yes, the bottom muffin covering jacket is here. YAY
Wear with skinny jeans and pointy boots as Mira Duma (above).
Or if you're feeling radical try a big jacket with baggy pants. Double up the volume.
The important thing is to layer it over something white.
It might be a poloneck or just a white tee.
Perfect for wearing right now.
Get shopping!
Jacket from Zara or invest in this divine jacket here from Calvin Klein.
white poloneck from APC or grab the perfect white tee from Trenery.
Faded black from your own wardrobe or these at Country Road. Add rips if you want.
Pointy toe boots from Stuart Weitzman , Manolo Blahnik or these cheap but chic here from Net a porter.
Sunglasses from Country Road.
Save
Save
Save
Save
Save
Save
Save
Save
Save
Save
Save
Save