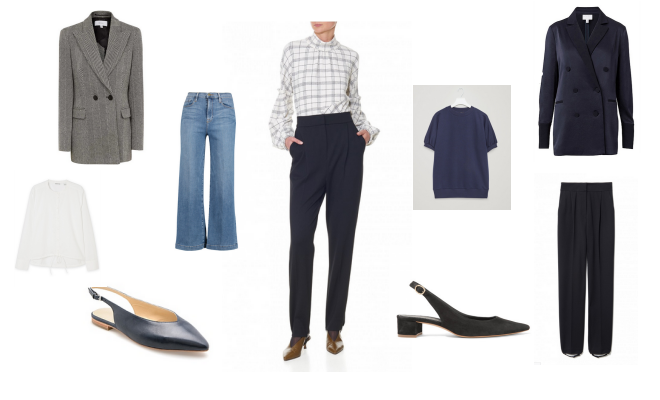 Most wanted ! 8 classics you need now. #Get shopping
|
Most wanted this week?
These 8 fabulous pieces.
These are the things my eyes zeroed in on and I had to try on ( someone has to !) as I ran around like a maniac in Manolos this week in the shops.
Now as I look at them I realise they all mostly navy, white and black: surprise!
Get shopping : All great versatile pieces you need right now in your wardrobe.
Scroll down and find out why !
Your shopping list:
The black and white tailored blazer: chic and sharp, cut to perfection. The black and white tweed means it's not a boring suit when you toss it with black pants. Might be too warm for right now in Sydney but if you're in colder climes this is perfect. Love with jeans and a white tee. Perfect with baggy pants. Will take you through to next winter. I tried it on in Reiss in WBJ :  Yes please !
The white shirt: Sometimes those grandpa shirts have too much volume. The sneaky drawstring hem means it will skim over the muffin situation and you won't feel a thing ! Love with high waist jeans because there is no tucking it in. A winner to wear to work with a leather skirt or on weekends with wide leg taupe chinos. From Country Road.
The black baggy pleat front pants with detachable stirrup thingos! What more do you want? Perfect with pointy toe heels. Fabulous with a shirt tucked in. This new shape is the style you need to invest in now. Transseasonal fabric. From Tibi.
The black block heel sling back: chic , easy to walk in and exactly what you need in this spring weather. If you haven't had a pedicure.  I love wearing my sling backs with frayed jeans. I LIVE in them. They need an edge so they don't look too nanna. Perfect with pants. Not so good with skirts. But you know that. From Mansur Gavriel.
The navy tuxedo blazer: I spied this in David Jones at Witchery. It works because it's light as a feather. Which means come summer when it's too hot for blazers you could just about toss this on over a cami. Also think of this as a chic cardigan.  It's the shoulder covering piece to over a dress on chilly summer nights. Because you know short cardigans are so daggy. from Witchery.
High waist wide leg jeans: Great colour, great cut. I am so over skinny jeans and these look fresh and chic. Bring on that high waist that sucks it all in . Yes please! From Outnet or try these dark denim culottes from Veronika Maine.
COS navy top: This is something you'd not even notice in store. You'd walk right past it. But get in the fitting room right now and try it on. That's an order ! What's to love ? It skims over the bits, it's very flattering, sits just so well. It's the updated chic slouchy Tee shirt . Who da thunk? Moi of course. It's perfect for weekends with jeans etc. Love it. from COS
The pointy flats: FiFi rule #1: shoes CHANGE everything. Watch as these little groovy numbers joosh up your daggy old wardrobe. These work when sneakers don't. Wear them on weekends with jeans and you won't look over dressed. When sneakers can look a little casual . When you don't to look like you're off to bowls. Yikes! Also in a light cream. From Trenery.
Want more? SHOP more pieces that I love on the FIFI Shop it page on pinterest !
Save
Save
Save
Save
Save
Save
Save
Save
Save