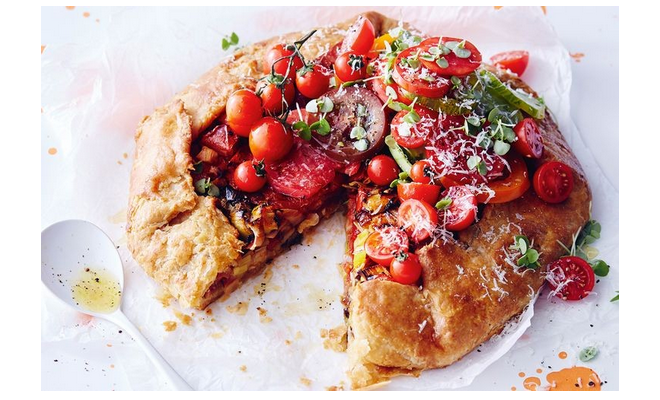 Leek, almond & bruised tomato galette. #Delicious.
|
A tomato tart that is a little different: it has almonds and leeks!
You can make the spelt pastry or just cheat and buy the pastry sheets.
Either way it's great. Adulterated from Delicious magazine.
You need for 6 fashionistas or 32 models:
5 over-ripe or bruised truss or roma tomatoes, chopped
3 leeks, thinly sliced
1/2 bunch hard herbs, such as thyme or rosemary
1/3 cup (80ml) extra virgin olive oil
1 bunch micro basil, leaves picked
1/3 cup (55g) roasted almonds, chopped
2/3 cup (50g) finely grated parmesan, plus extra to serve
2 tbs baby capers in vinegar, drained
1 egg, lightly beaten
Sliced mixed heirloom tomatoes and vine-ripened cherry tomatoes, to serve
Spelt pastry
22/3 cups (400g) white spelt flour
200g cold unsalted butter, chopped
1/4 cup (60ml) apple cider vinegar
• Toss on divine Chloe black boho dress
• Pull on Prada gorgeous need them now black and white kitten heels
• Pour a wine or three.
• For the pastry, place flour and 1 tsp salt flakes in a bowl.
• Add butter and toss to coat. Like a Burberry coat.
• Using a flat-bladed knife or pastry cutter, roughly cut in butter, leaving plenty of big pieces of butter.
• Combine vinegar and 1/2 cup (125ml) iced water in a jug.
• In 3 batches, add to flour mixture, stirring to combine.
• Turn out onto a clean work surface and gently knead until the dough comes together. Like your thighs.
• Enclose in plastic wrap and chill for 3 hours. And read the lastest Vamity Fair.
• Preheat oven to 200°C.
• Line a baking tray with foil and place bruised tomato, leek and hard herbs on top.
• Drizzle with oil and season.
• Roast for 40 minutes or until leek is very tender. As your face after a chemical peel.
• Transfer mixture to a colander set over a bowl and set aside to drain and cool, reserving the liquid.
• Discard the herb sprigs.
• Meanwhile, roughly chop half the basil leaves and place in a bowl with almonds, parmesan and capers.
• Roll out pastry on a lightly floured work surface until 3mm-thick, 30cm round and place on a baking paper-lined baking tray.
• Scatter over basil mixture, leaving a 7cm border, and top with leek mixture.
• Fold over pastry border to partially enclose filling.
• Brush with egg and cook for 50 minutes or until pastry is crisp and golden. Cool slightly.
• Serve tart topped with sliced heirloom tomatoes, cherry tomatoes, remaining basil leaves and extra parmesan.
• Drizzle with reserved roasting juices and serve.
• Yum.