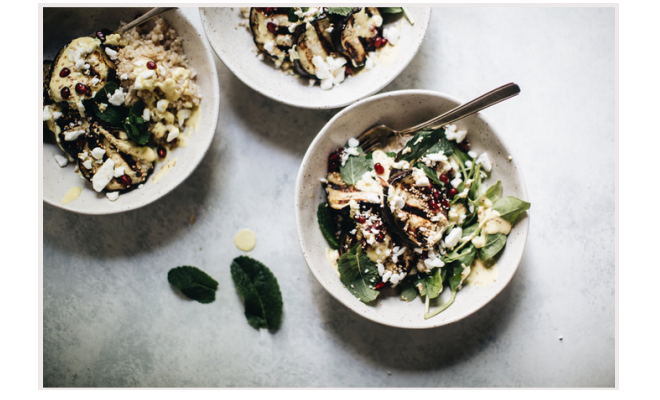 Eggplant with turmeric-tahini yoghurt #Community.
|
It's a little different , a little vegetarian but majorly delicious and so good for you…adulterated from the fabulous book Community from Arthur Street kitchen
You need for 4 fashionista:
3 medium eggplant (about 800g), trimmed
2 tbsp olive oil
3-4 cups cooked brown rice
2 (tightly packed) cups baby rocket (arugula) or spinach leaves
¼ (tightly packed) cup mint leaves
100g feta, crumbled
1 tbsp toasted sesame seeds (white, black or both)
½ pomegranate, seeds removed
Sea salt and black pepper
Turmeric tahini yoghurt
1/3 cup yogurt
1 tbsp water
1 tsp maple syrup
1 tbsp tahini
1 tbsp olive oil
1/2 tsp turmeric
sea salt and black pepper, to taste
•    Slip into Prada dress.
•    Pour a wine and inhale.
•    Cook the rice.
•    To make the turmeric yoghurt, combine the yoghurt and water and mix until smooth as Nicole Kidman's face. You are looking for the consistency of thick cream – if it is too thick like a Burberry puffa, slowly add more water, a teaspoon at a time.
•    Add the maple, tahini, olive oil and turmeric, and stir to combine. Season with sea salt and black pepper.
•    Slice the eggplant into 1cm thick slices – think a Gucci buckle size- and coat in the olive oil.
•    Heat up the barbecue (or a griddle pan on the stovetop), and char-grill the eggplant for 2-3 minutes on each side until soft like a Hermes wallet and cooked through.
•    Sprinkle over sea salt and set aside to cool slightly.
•    In a large bowl, add a big spoonful (or two) of brown rice, toss in a handful of rocket and spinach, a scatter of mint leaves and top with a few slices of eggplant.
•    Spoon over some turmeric yogurt, and scatter over the feta, sesame seeds and pomegranate seeds.
•    Serve immediately.
•    Yum !