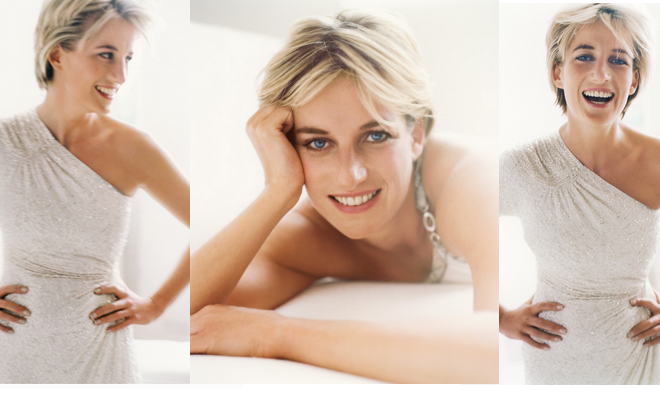 They said whaaat?! Designers talk about Diana.
|
Among the vast acreage of tributes to Diana, Princess of Wales, on the 20th anniversary of her death, her relationships with the people who dressed her remains generally overlooked. Behind the scenes, in their studios, showrooms, and stores, the designers who dressed Diana were some of the few who gave her a space to be herself from VogueUK.
"She really loved the world of fashion, and she liked the people in it. It was an escape for her," milliner Stephen Jones.
"Well, she was coming of age when we were all New Romantics, dressing up to go to the Blitz Club in the early Eighties. Diana never did [go], but the weird thing was I made the exact same beret for her as for [the club's impresario] Steve Strange."
"I thought she was a bit lost. But she soon became entirely empowered through fashion. It gave her a stay, and an armour, to mask a sadness. I think an enormous chasm opened up between the girl hidden inside and the different woman she had to create and present to the world." Arabella Pollen
David Sassoon remembers Diana loving to dress up and coming in hooting with laughter one day when a girl in a coffee shop had told her, "You look just like Princess Diana!" and she'd replied, "Oh, that's the nicest thing anyone's ever said to me!" Nevertheless, he felt her vulnerability. After the wedding rehearsal at St Paul's, she sat on his couch and burst into tears, crying, "It's all too much."
"The worst thing was how much she was criticised. When she first came to us, she was quite a healthy size 10Then when she came down from Balmoral (after the honeymoon), she surprised us all. She was thin." Bruce Oldfield.
"She would just drop in. We trained our girls never, ever to say anything to anyone who'd call up. The press would try every ploy to find out what she was buying. We never commented. We'd even deny it." Ronit Zilkha,
"She'd get involved, hauling rolls of fabric up the stairs at the studio. And then it would always be take-the-piss-out-of-Bruce time." Bruce Oldfield, who masterminded her transformation into the sparkling, glamazonian "Dynasty Di.
"She never asked me to call her anything other than Diana. There was a day the paparazzi found out she was there. Within minutes, it was a zoo. So I sent my staff out, about 20 young ladies in body-con dresses, to give them tea and keep them busy while Diana slipped out unnoticed." Jasper Conran.
"I think she enjoyed the world of gay people. She liked the alternative, the bohemian. For me, as a gay man, she was a standard-bearer. She was a slightly Florence Nightingale figure. She certainly alienated the establishment, but she dragged them into the discussion, because of her power." Stephen Jones on Diana's decision to become the first royal—and then the most famous person in the world—to shake hands with an AIDS patient.
"By then (her the last summer), she was the way she really wanted to look. She was training. It was reflective of the work she was doing. I think she was simplifying. It was her inward feeling of wanting to be light." Joseph Azagury
"She had turned into a woman who was quite assured in her work. Who was brave and headstrong. The simpering princess had gone. She was not playing a part anymore. She'd found a role." Jasper Conran.