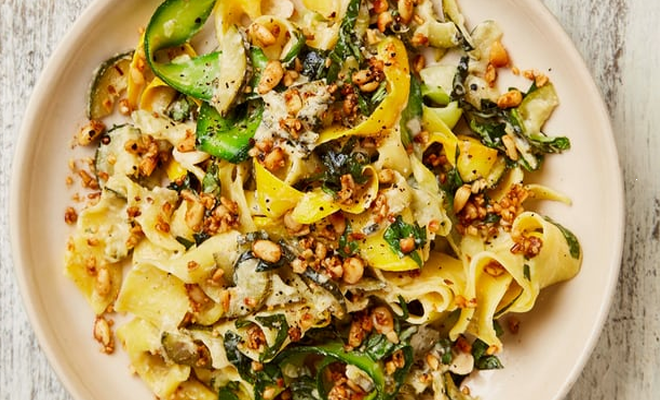 Yotam Ottolenghi's courgette pappardelle with feta and lemon.
|
Love lemon , Love courgette, Love pasta with pinenuts! Thank you Ottolenghi .
An easy creamy vegetarian pasta full of flavour to whip up on a chilly night.
You need for 4 fashionista and 45 models:
For the sauce.
3 tabsp olive oil
2 garlic cloves, finely sliced
3 tabsp oregano leaves
3 large green courgettes, cut lengthways into quarters, then finely sliced
Salt and black pepper
150g feta, broken up into rough chunks
100ml vegetable stock
For the pasta and courgette ribbons.
30g unsalted butter
80g pine nuts, roughly crushed
2 courgettes If you can, use a mix of green and yellow courgettes, but the dish is still impressive even if you can get only green ones.
300g pappardelle egg pasta
Finely shaved zest of 1 lemon, plus 1 tabsp lemon juice
25g basil leaves or 1 cup, roughly shredded
•    Slip into Celine parka
•    Pull on Saint Laurent boots.
•    Sock down a wine
•    Start with the sauce.
•    Chop up garlic, cut up courgette, break up feta.
•    Heat the oil in a large saute pan on a medium-high heat, then fry the garlic and oregano for one to two minutes, until the garlic just to starts to get as brown as a Hermes cuff.
•    Add the sliced courgettes, three-quarters of a teaspoon of salt and plenty of black pepper, and fry for five minutes, stirring frequently.
•    Add the feta and stock, bring to a boil, then turn the heat to medium-low and leave to cook for 25 minutes, until the courgettes are as soft as Celine bag , the feta has melted and the sauce is creamy as a crème de la Mer.
•    Turn off the heat and cover the pan.
•    Melt the butter in a small saucepan on a medium-high heat.
•    Once the butter starts to spit, add the pine nuts and fry, stirring, for a minute, until they turn golden-brown as Beyonce, then spoon the nuts into a small bowl, to stop them cooking any more.
•    Peel the yellow and green courgettes into long, thin strips like a supermodel (ideally, using a mandoline or potato peeler): you need 300g, so save any excess ribbons and add them to your next salad.
•    Bring a large saucepan of salted water to a boil, then cook the pappardelle until al dente, stirring the courgette ribbons into the pasta water only a few seconds before the pasta is done.
•    Drain, then return the pasta and courgette ribbons to the pan and stir in the sauce, lemon zest and juice, basil and a generous grind of black pepper.
•    Divide between four shallow bowls, accessorise by spooning over the reserved pine nuts and serve hot.
•    Drink up and eat up.