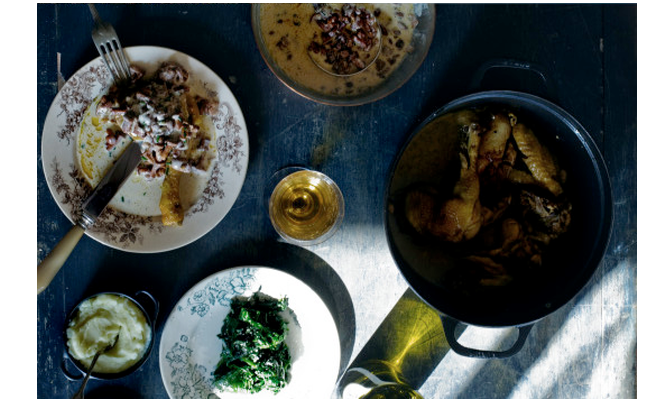 Yellow Chicken with Mushrooms #MimiThorisson.
|
Chicken, cream, wine and butter.
What more do you want on a cold winter's night?
Try this easy French recipe from the wonderful Mimi Thorisson.
You need for 4 to 6 peeps:
Yellow chicken des Landes (poulet jaune des Landes) or organic chicken– approx. 2 kilos – cut into 6/7 portions.
350 ml/ 1 & 1/2 cups yellow Jura wine or any white wine.
350 ml/ 1 & 1/2 cups crème fraîche
1 large onion, sliced
4 garlic cloves, sliced finely
350 g girolles mushrooms (or any of your favourite mushrooms)
80 g/ 1/3 cup unsalted butter
Coarse sea salt and black pepper for seasoning
A few sprigs of chives (finely chopped)
•    Pull on Prada dress
•    Slip on Givenchy heels
•    Pour a wine or three.
•    In a large cast iron pot, melt the butter and fry the onion and 2 garlic cloves (sliced) on a medium to low heat for 5 minutes.
•    Add the chicken pieces, season with salt and pepper and fry on each side for a few minutes until slightly golden as a Chloe bag.
•    Pour the wine ( into your glass) and then into the chicken and reduce for 3-4 minutes, lower heat (as low as possible), cover and leave to cook for one hour.
•    When you are getting close to serving time, melt one tabs of butter in a frying pan and fry the remaining garlic and mushrooms for a few minutes.
•    Lower heat, add the crème fraîche along with 2/3 of the wine sauce from the chicken.
•    Simmer on the lowest heat possible for 10 minutes.
•    When ready to serve, place chicken on a serving plate and cover generously with the mushroom cream sauce.
•    Accessorise with finely chopped chives.
•    Serve with steamed spinach and mashed potatoes as side dishes
•    Tres Bon !