Steal her Style !
|
What's not to love about a trench, a tee and jeans?
J'adore this look !
It's a great uniform. It's ageless. It's always chic.
And it's trans- seasonal.
The one thing to remember?
Update all these classics into new shapes.  Repetez. Repetez.
This time the trench is very long. In grey. ( time to store that knee length trench).
The jeans are high waisted , in a faded wash with patchwork details.
The white Tee is loose and slouchy. ( Ditch all your tight white tees).
The Sunglasses should be round with a lighter colour frame.
And can we talk about these shoes?
You can find these exact same mules in Zara ( on sale I think!). I am not so keen on this Turkish slipper look so I suggest some tan suede mules instead.
Add this denim Prada bag if that's your thing .
But I prefer this bag from J crew in a chic grey. Because it lightens the look ( black can be too heavy) but still tones in.
Now steal her style !
Shopping list:
Long grey trench from Outnet, or try Burberry or this chic one from The iconic.
Jeans from Madewell
love this T shirt from Rag and Bone or try long sleeve from Bassike
Suede mules from Shopbop
Sunglasses from Forever New or Country Road
*pic from FiFiReportpinterest.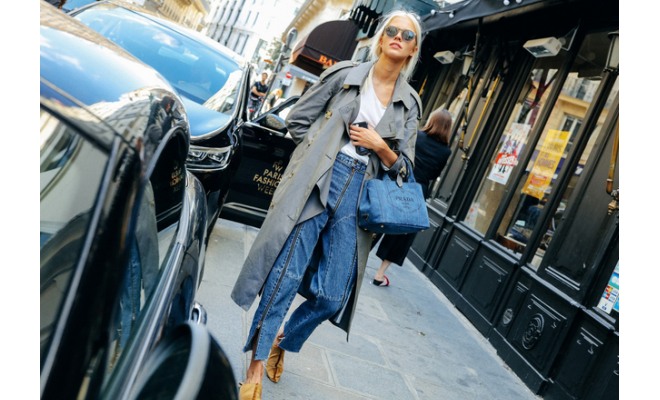 Save
Save
Save
Save
Save