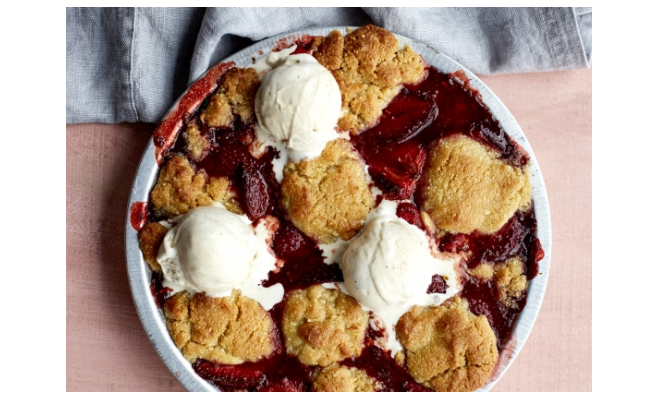 Pimm's & strawberry cobbler with vanilla, orange & almonds.
|
This is like a crumble but the strawberries are soaked in Pims (Or gin !) and the topping is made with almonds .
Easy. Delicious. Get eating.
Thank you Jamie Oliver You need:
800 g ripe strawberries
1 vanilla pod
1 orange
40 g soft brown sugar
40 ml Pimm's
vanilla ice cream , to serve
TOPPING
50 g whole almonds
100 g self-raising flour
50 g caster sugar
100 g unsalted butter , chilled
Sock down a wine.
Pull on Supreme Louis Vuitton sweat shirt and trackpants
Preheat the oven to 240ºC
Hull the strawberries, halve any larger ones, and place them all in a 25cm baking dish.
Halve the vanilla pod lengthways, scrape out the seeds and add to the strawberries (save the empty vanilla pod and pop in a jar of sugar for a lovely flavour).
Finely grate in the orange zest and brown sugar, tossing gently to combine, then pour in the Pimm's. Hic
Place the dish in the oven, reduce the temperature to 190 and cook for 10 minutes, or until the fruit is soft but still holding its shape. Such as your good self after pilates
Meanwhile, make the topping.
Blitz the almonds in a food processor until fine, then tip in the flour, sugar and 1 pinch of sea salt.
Cut the butter into cubes, add to the food processor and pulse until the mixture resembles fine breadcrumbs.
Add about 2 tablespoons of water and pulse again until it comes together into a firm dough.  Like your thighs
Remove the strawberries from the oven, gently mixing and scraping around the edges to collect any bits that are catching, then use a tablespoon to dollop 12 big spoonfuls of dough on top of the fruit.
Return the dish to the oven for about 20 minutes, until bubbling and golden on top. Like Donald Trump.
Serve with vanilla ice cream, if you like. I do.