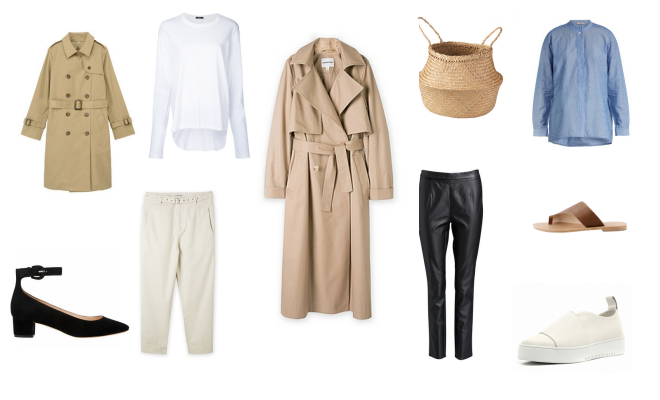 Need now ! FiFi's Favourite Finds.
|
Here's the good news:
Here's what I've found as I have trawled the shops this week.
For you dear readers.
Stuck behind a desk , all day with kids, stranded away from the shops.
This is for you.
They're the pieces that I've pounced on when I've scanned the racks or online.
They're the pieces you need in your wardrobe.
They're what they call in fashion 'elevated basics'.
Or in FiFi speak: updated classics!
Some are new in, some are on sale, some are always in store.
Remember all the pieces work together: mix them up and you have 10 different outfits.
Get shopping ! (Hint: Scroll down for the shopping list and fifi's tips and tricks).
The shopping list:
The trenchcoat: You know you need one. Especially this season. Double breasted is best. Very long is fabulous. There are quite a few around like this cheap but chic in H&M  but the best one at a price (!) is from Country Road . Note : it's NOT the latest one instore now, this one is a better colour. If you want a classic ( see above left pic) also at a great price head into one of my fav stores,  Muji a fabulous buy for $139.
The white shirt: love this one from Trenery.  It's a best seller re-issued from last season: Still the best shape, it will skim over the 'situation' because of that sneaky drape front , will give you a long neck with that fifi approved neckline and take 10 years off because it's in white. What more do you want? Buy here.
The black pleather leggings: these are fabulous, look like real leather, fit really well, will take you from day to evening. Wear now right into summer. Buy From SABA.
The white sneakers: Love white shoes. Love these because I hate lacing up sneakers. Love that these are pull on. A bit of a platform, but not too chunky when you try them on , they look tres Celine. They look great with the trench, white shirt and leggings. Buy here from Midas or here at David Jones.
The neutral parka. Need, want, have to have. I've banged on about a parka in a pale colour here on The FiFi Report. It's the coolest thing to own right now. You want this one at COS because it's long, long, long. Glamorous long. It looks more like a fashion item than something to wear when it's raining. Buy instore at Cos or a Rains parka from here.
The white long sleeve Tee. Perfect for trans-seasonal dressing to layer under a blazer with jeans. You can't get better than the Bassike tee. Light cotton so you don't die of heat exhaustion. Perfect fifi approved neckline. Cute asymmetrical cut. Neat detailing along the shoulder and a little sloppy. Buy here from Bassike.
The updated chinos. When you don't want to wear jeans, and boring black pants are too boring. These are the go to: a slight drop crutch but nothing too scary, you need to wear them slouchy. They're flattering -I should know- because they skim over the muffin thighs . Wear them rolled up with heels and a chic sequin top for low key evenings or on weekends with sandals/sneakers etc. Also fabulous in black.  Buy here from Country Road.
The toe thong sandal: They were around last summer : still so right. You should have bought them in white when instructed on The FiFi Report. This season love them in tan or black from Tony Bianco (A black sole with black leather is much more preferable than black with the natural sole)  buy here.
The Black trench : It's the season of the trench , Woo Hoo. I'm in heaven. You can't have too many. Get one in black as well as neutral. You wear it instead of a blazer or jacket, it's an outer piece rather than 'oh it's raining I best put on a trench coat' mentality . I've included this one because it's fabulous and it's on sale . It's super long, in a summery light fabric and a fabulous cut. Wear right into summer and into next winter. Buy here from The Iconic for $315, ( BTW buy instore at WBJ it's $420 !) .
The blue stripe shirt: It's almost a wardrobe staple now. Love how it lightens up all my black and grey. It's a colour OMG! Go for a round collar, and loose shape. Love how they have styled this Vince shirt here at Matches tucked into a long neutral skirt and white shoes (!). J'adore ! On sale. Also check out my shop: FiFi Fav Finds on Pinterest for more shirts and all sorts of goofies .
The market raffia basket. I first reported last year that the cute French basket was the hot accessory du jour. Now they're everywhere, with all street style fashionista carrying one ( see here). Love this cheap but chic basket from Ikea for $14. Also available here at the Oxfam shop at WBJ. Buy two. On for the beach , one for every day.
The block heel Mary Jane. Comfortable, chic and the perfect heel to shop in all day. Better than a stiletto where you can look too try hard. These are very Valentino inspired, in black suede they are fabulous with frayed jeans or the leather leggings. Best with jeans these shoes can look a little dowdy with a skirt. Soz. Buy now from Ninewest.
(* wear ankle boots with skirts)
Have a fabulous weekend ! x
Save
Save
Save
Save
Save
Save
Save
Save
Save
Save
Save