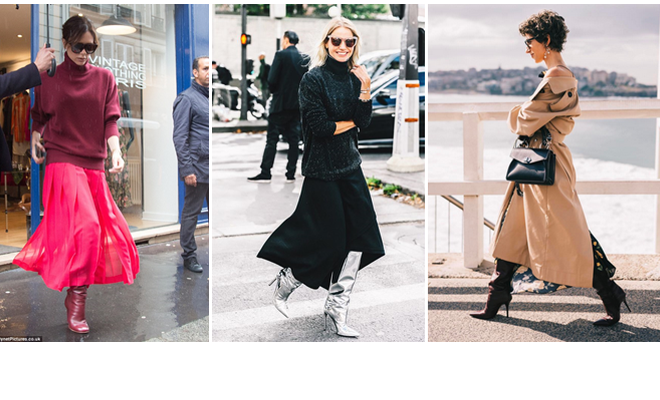 How to wear long boots & long skirts. #stylingtrick.
|
The new silhouette that I love and adore for next season?
Long boots with long skirts.
So 70's! So feminine! So easy to wear !
It's the styling trick of the week.
It's about a soft pretty flirty skirt ( or dress).
It should be cut with a bit of swish and volume. A fit and flare shape. So that it sits flat on the waist but flares out. Or it go for a long pleated skirt.
Most importantly the skirt has to be long enough to cover the top of your boots.
The good news?
The boots can be either seriously pointy or simple round toed.
Whatever suits you.  And your footsies.
You can see Balenciaga has both gone crazy for the long pointy boots in bold colours. Red, Silver, blue, lace ! Yikes.
My advice?
Stick to classic black in both the boots and a skirt.
It's the most versatile and the most flattering.
NB: This is a trend that's zooming up the groove richter scale straight into next season. Meaning invest in it right now and you'll get seasons of wear.
The way to wear it?
Toss on a oversized sweater a la Victoria Beckham: done !
Scroll down (past the street style shots below) to my picks of fabulous long black boots and long flirty skirts.
It's the styling trick of the week !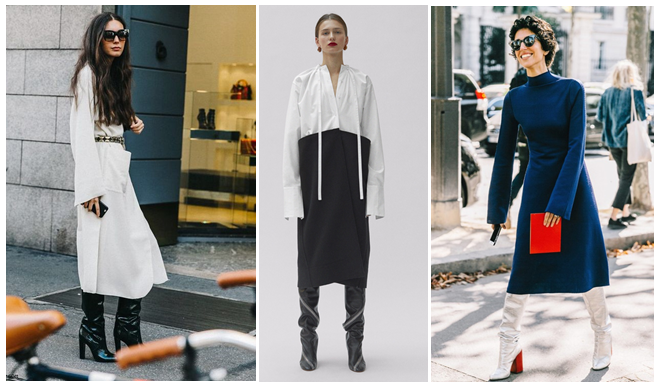 #Getshopping
Skirts: Country Road, Ellery, Witchery , Halston.
Boots: Theiconic, Acne, Country Road and Farfetch and try Yoox.
Save
Save
Save
Save
Save
Save
Save
Save
Save