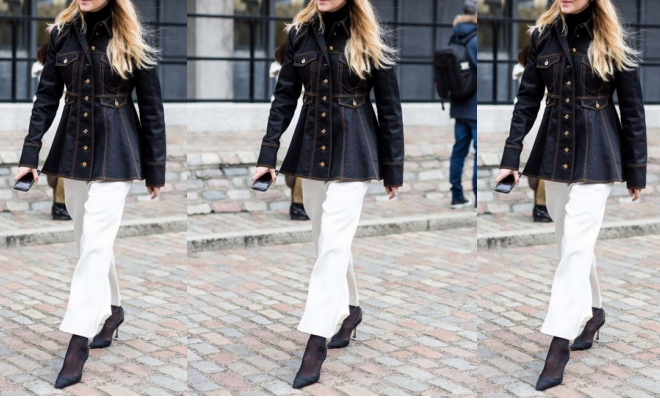 Steal her Style !
|
When is a denim jacket not a denim jacket?
When it's a chic fitted, tailored jacket that just happens to be in dark blue denim.
What's to love?
The casual denim fabric is a great contrast to the more formal fitted shape.
Which means you can throw it on and you won't look too dressy, done up and blazer-ish. It's got that cool, casual edge.
Oh and we did even talk about the flattering shape?
It's perfect for those who think they don't have a waist. But want to create an illusion they have. Gotta love that.
Pull on white frayed cropped jeans and a black sweater that hugs the shape of the jacket. Then slip on fabulous black pointy heels to pull it all together.
Done !
Fashion tips:
With a fitted narrow jacket you need white jeans ( or pants) that are loose or baggy. Remember tight + tight = wrong.
Make sure the jeans are high-waisted so they fit snugly under the jacket. Avoid all lumps and bumps that might bulk up the silhouette.
Add white shoes or white sneakers or simple black ankle boots.
Make sure the pants stop at the top of the ankle.
The black socks are optional.
Steal her style !
Country Road denim jacket.
Reiss sweater on sale,
Rachel Comey white jeans
Isabel Marant heels or try more classic style here from Michael Kors.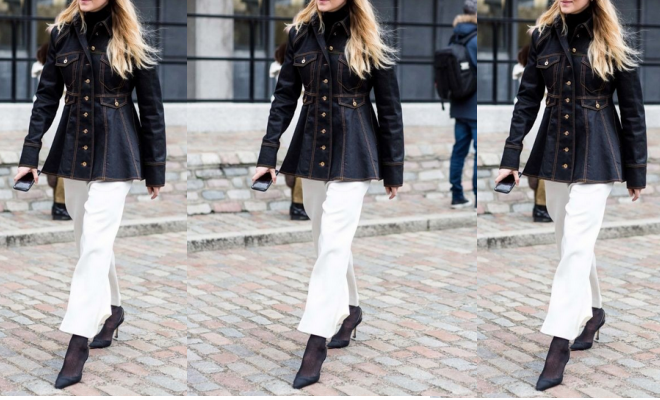 Save
Save
Save
Save
Save