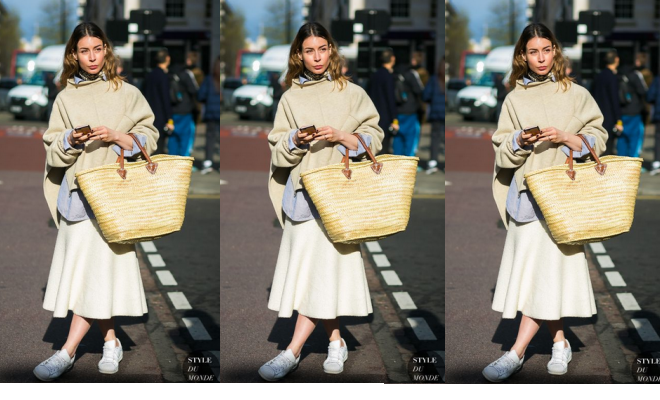 Steal her style !
|
This is a fabulous, easy look for casual weekends isn't it?!.
The idea is layer up.
Changing all the proportions so it looks new.
Loose over slouchy looks effortless. Oh la la, it's comfortable as well.
And you probably own most of these pieces. ( You should if you've been reading The FiFi Report !)
The styling tips:
Pull on an white A line skirt ( if it has a narrow waist then you won't feel too Michelin Man).
Toss a big sweater over your denim shirt.
Let it hang down over the skirt.
Pull out the collar and give it major cuff attention.
A bit of a sleeve push up wouldn't go astray
What's new?
The straw bag in winter!
You saw last year when I sniffed out the market basket trend on The FiFi Report.
It's not too late to grab one now and it will take you right into summer.
Add your white sneakers and voila.
Steal her style !
Get shopping:
Sweater poncho ( It's reversible so two for the price of one) from Witchery, Denim shirt madewell or J Crew, Skirt from Country Road, white sneakers on sale French connection and bag from French Baskets or Shopbop for fashion ones.
Pic from style du monde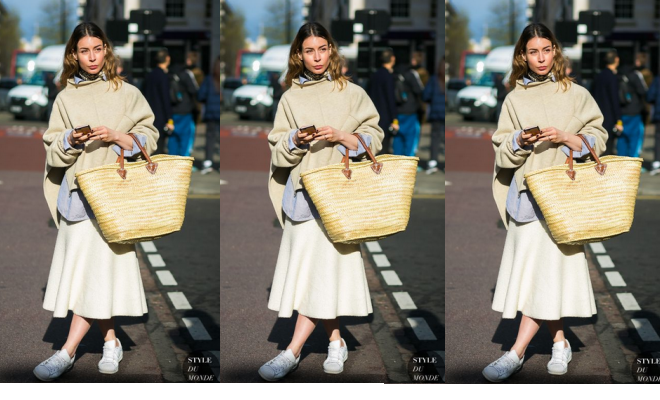 Save
Save
Save
Save
Save
Save