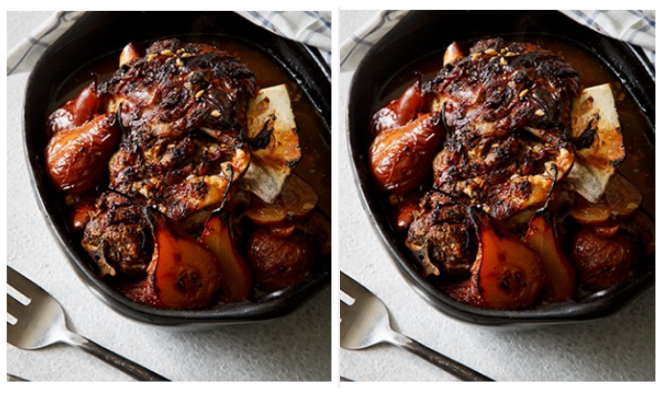 SLow Roasted Lab with pear and cumin #KarenMartini.
|
Sunday roast never looked so good !
This slow roasting lamb shoulder on the bone is adulterated from Karen Martini.
She says 'this combination may seem a little unusual but the hit of spice and sweet roasted pears are such delicious foils for the richness of the lamb. You must be patient and make sure the lamb is meltingly tender before serving, if you can still feel tension in the meat, then it just needs a little longer in the oven'.
You need:
2 brown onions, skin on and sliced into rounds
2 tablespoons cumin seeds
2 tablespoons black peppercorns
5 cloves garlic
2 tablespoons salt flakes
extra virgin olive oil
1 lamb shoulder (bone in), semi-cut into portions (ask your butcher to do this) and fat scored
7 sprigs thyme, leaves stripped
4 beurre bosc pears, skin on and cut in half
3 tablespoons raw sugar
2 tablespoons red wine vinegar
• Pull on black Ellery dress with big sleeves , on sale (perfect for dipping in lamb. Lols).
• Pull on gorgeous YSL silver ankle strap heels on sale
• Sock down a wine or three.
• Preheat the oven to 160˚C fan-forced or 180˚C conventional.
• Place the onion in the base of a heavy ovenproof dish.
• Using a mortar and pestle, crush the cumin and peppercorns.
• Add the garlic and salt and grind to a paste.
• Add a good splash of oil and mix until a loose paste. Like an Aesop facemask.
• Smother the paste all over the lamb, rubbing between the cut bones as well.
• Place the lamb on top of the onions and scatter with the thyme leaves.
• Add the pear halves to the dish and sprinkle with the sugar and vinegar.
• Pour around 80 ml of water into the dish and cover with a double layer of foil.
• Roast for four hours, then remove the foil and skim some of the fat from the liquid in the dish.
• Raise the temperature to 180˚C fan-forced, baste the lamb and cook for another 35 minutes or until golden brown as a Celine bag.
• Serve with braised silver beet and couscous.
• Delicious.