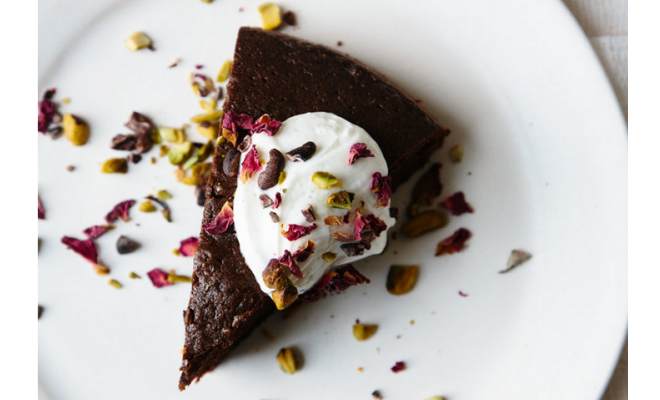 Olive oil & almond chocolate cake #beyonddelicious.
|
I adore this flourless chocolate , olive oil and almond cake : It's a winner !
It's adulterated from Nigella who writes "Although I first came up with this recipe because I had someone coming for supper who – genuinely – couldn't eat wheat or dairy, it is so meltingly good, I now make it all the time for those whose life and diet are not so unfairly constrained, myself included" .
Makes: 8-12 slices for 53 models:
⅔ cup regular olive oil (plus more for greasing)
6 tablespoons good-quality unsweetened cocoa (sifted)
½ cup boiling water
2 teaspoons best vanilla extract
1½ cups whizzed up almonds (or 125g plain flour / 3/4 cup plus 1 tablespoon all-purpose flour)
½ teaspoon baking soda
1 pinch of salt
1 cup superfine sugar
3 large eggs
•    Pull on Valentino sparkle tulle skirt .
•    Slip on heels.
•    Preheat your oven to 170°C.
•    Moisterise a 22 or 23 cm/ 9inch spring form tin with a little oil and line the base with baking parchment.
•    Measure and sift the unsweetened cocoa into a bowl and whisk in the boiling water until you have a smooth, chocolatey, still runny (but only just) paste like a Dermalogica facemask
•    Whisk in the vanilla extract then set aside to cool a little.
•    Whizz up the almonds in your food processor so they are finely ground with a few tiny chunks.
•    In another smallish bowl, combine the almonds with the baking soda and pinch of salt. Set aside.
•    Put the sugar, olive oil and eggs into the bowl of a freestanding mixer with the paddle attachment (or other bowl and whisk arrangement of your choice) and beat together vigorously for about 3 minutes until you have a pale-primrose, aerated and thickened cream. Like your thighs will be.
•    Turn the speed down a little and pour in the cocoa mixture, beating as you go, and when all is scraped in you can slowly tip in the ground almond (or flour) mixture.
•    Scrape down, and stir a little with a spatula, then pour this dark, liquid batter into the prepared tin.
•    Bake for 40-45 minutes or until the sides are set like your face after botox and the very centre, on top, still looks slightly damp and dewy- like you after shopping in Prada.
•    It's cooked when the cake tester comes up mainly clean but with a few sticky chocolate crumbs clinging to it.
•    Let it cool for 10 minutes on a wire rack, still in its tin, and then ease the sides of the cake with a small metal spatula and spring it out of the tin.
•    Leave to cool completely and serve with Nutella icing (!)( it's the best idea) and berries strewn across it . Or eat while still warm with cardamon cream and pistachios.
•    Best dessert ever cooked !