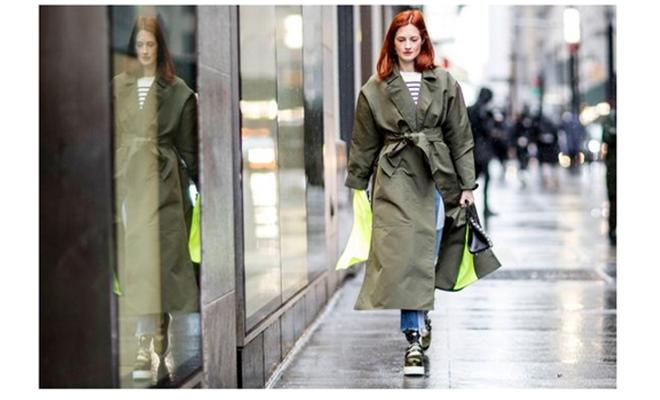 Steal her Style ! #updatethebasics.
|
The key to this week's steal her style?
Always update the basics. Repetez Repetez apres moi. I say it every week. It's the FiFi mantra.
Look what she's wearing here: a stripe tee, a trench and jeans.
But it ain't any old daggy tee, jeans or trench.
You want a LONG trench, a cut out stripe tee and jeans that are cropped, frayed and patchwork.
Add cool platform sneakers et voila.
BTW the long trench is THE hot item du jour.
When I say 'long' I mean right down there near your ankles.
Not some short, tight thing that stops above the knees. You've got to ditch that one, it's been lingering for way too long in your wardrobe.
The new extra long trench is an instant wardrobe updater.
Even better if it's in Khaki.
Even better if it's big, roomy and voluminous.
You will remember last year you were instructed here on The FiFi Report to buy a long trench. (You can see all the street style inspo pics here).
And it's never too late to get your groove happening. This long coat trend is just starting and here for 5 years or more. Meaning? Cost per wear is zilch !
Steal her style.
khaki trench from Bassike.
Jeans from  Seed or Redone Jeans or Vetements.
Stripe tee from The Outnet or try J Crew.
Sneakers from Country Road.
Save
Save
Save
Save
Save
Save
Save
Save