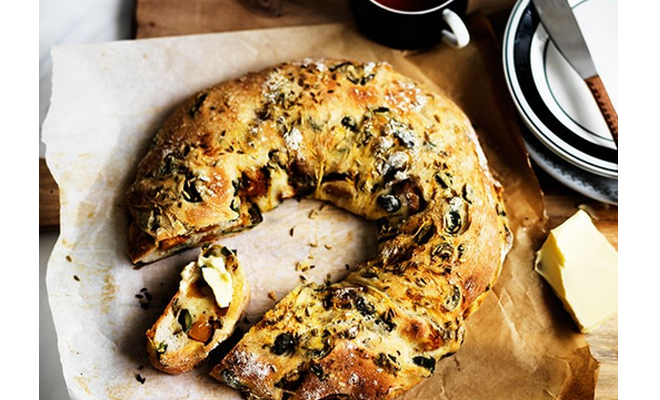 Pumpkin, fennel & olive loaf.
|
You can make bread. You can.
It's not so tricky. And it's worth it. When you eat this with lashings of butter .
Adulterated from Gourmet Traveller who say to serve "this warm from the oven as on a cold winter's day for a delicious teatime snack. You can use any pumpkin you like here, but we've chosen butternut because it caramelises well when roasting, making for extra flavour".
You need for 55 models:
250 gm peeled Kent (Jap) pumpkin cut into 2cm dice
2 tsp grapeseed oil
1 tsp fennel seeds, plus extra to garnish
330 gm bread flour, plus extra for dusting
1 tsp caster sugar
¾ tsp dried yeast
2 tabsp olive oil, plus extra for brushing
150 gm coarsely chopped pitted Sicilian green olives
To serve: butter
•    Slip into the most divine black tulle beaded Valentino gown.
•    pull on Yves Saint Laurent silver babies ankle strap silver block heels.
•    Sock down a wine or three.
•    Chop up the pumpkin into 2 cm pieces, the size of a Gucci belt buckle.
•    Heat a large frying pan over high heat.
•    Toss pumpkin in a bowl with grapeseed oil to coat, then transfer to hot pan and fry, stirring occasionally, until as tender as your credit card after the Net a porter sale and caramelised as any Kardashian.
•    Add fennel seeds and stir until fragrant (1-2 minutes).
•    Season to taste and set aside to cool (15-20 minutes).
•    Meanwhile, combine flour, sugar and yeast (in an electric mixer fitted with a dough hook if you have it)…and mix to just combine.
•    Add olive oil, 250ml water and ½ tsp salt, mix until a soft dough forms, then set aside covered until doubled in size – as you will be after eating this with lashings of butter. (30 minutes).
•    Fold pumpkin and olives loosely through dough with your hands, knocking it back at the same time, that's the bread not the wine….then turn dough out onto a lightly floured surface and roll to a rough 45cm long cylinder.
•    Transfer to a sheet of baking paper, bring ends together, overlapping a little like your muffin top, and press to seal. Do that the wine bottle as well. Hic.
•    Set aside uncovered until doubled in size like your shoe collection (about 1 hour).
•    Preheat oven to 250C.
•    Brush loaf lightly with olive oil and scatter with fennel seeds.
•    Bake for 15 minutes, then reduce heat to 180C and bake, turning tray once, until golden and crusty as Warren Beatty (10-15 minutes).
•    Cool briefly on a wire rack (5 minutes), then serve with butter.
•    This loaf is best eaten on the day it's made.
•    So eat up !