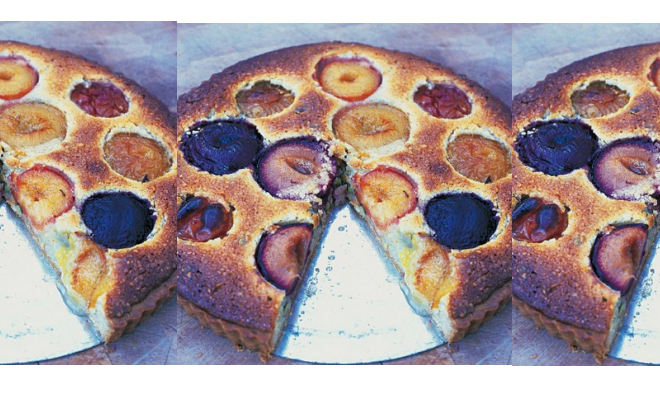 Plum, Almond & Pistachio tart. #JamieOliver.
|
Plums are in season and I love this recipe for a plum tart with almonds and pistachios. Adulterated from Jamie Oliver who says "this rustic, nutty plum tart is incredible served warm with a scoop of vanilla ice cream"
You need for 10 fashionista and 35 models:
350 g blanched whole almonds
300 g unsalted butter
300 g caster sugar
3 whole free-range eggs
1 handful whole pistachio nuts , shelled
500 g shortcrust pastry
6-7 plums , halved and destoned
3 tablespoons vanilla sugar
•    Toss on Prada dress.
•    Pull on Celine red and white boots on each foot.
•    Pour a big fat wine : you made it to Friday.
•    Line a 28cm/11 inch loose-bottomed ( You will be after eating this ) flan tin with the pastry and bake it blind. That's the pastry not you blind drunk.
•    In a food processor, blitz the whole almonds to a fine powder like a dusting of bronzer and put into a bowl.
•    Then blitz the butter and sugar until light as a YSL feather jacket and creamy as Nicole Kidman.
•    Add this to the almonds with the lightly beaten eggs and fold in until completely mixed and nice and smooth as Nicole's face.
•    Stir in the pistachio nuts, and place in the fridge to firm up slightly.  Don't try this on yourself it doesn't work.
•    Once the mixture has chilled, pour it into your tart case about three-quarters full. You don't want to overfill it otherwise it will spill over the edge when you add the plums.
•    Toss the plums in the vanilla sugar, let them sit for 10 minutes, then push them into the tart mixture.
•    Bake the tart on a tray at 180°C for about 1 hour, or until the almond mix has become firm as Gwyneth and golden as Donatella on the outside but is still soft in the middle. Like Donald Trump,
•    Allow to cool for about ½ an hour and serve with ice cream or crème fraîche.
•    Yum.