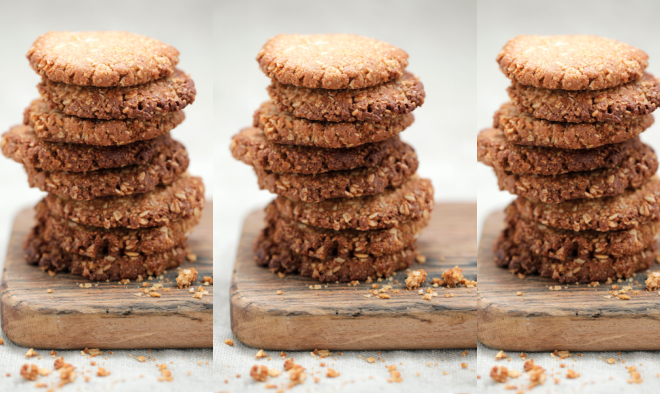 Healthy Anzac Biscuits .
|
It's a new, updated healthy version of Anzac biscuits.
Adulterated from the healthy chef who has adjusted the original recipe so coconut, almond and macadamia nut oil are added to the traditional rolled oats.
You need for 20 biscuits or for 40 models:
1 ½ cups (175 g ) organic rolled oats
½ cup (40 g ) organic desiccated or flaked coconut
½ cup (60 g ) flaked or chopped almonds
2 ½ tablespoons macadamia nut oil, cold pressed coconut or extra virgin olive oil
2 tablespoons honey or your alternative such as organic maple rice.
1 teaspoon vanilla extract or ½ teaspoon vanilla bean paste 1 tablespoon water
• Slip into gorgeous Tom Ford long white gown  and channel Gwyneth at the Oscars.
• Sock down a wine or two and channel Amy Schumer. Hic.
• Preheat oven to 150 C .
• Combine oats, coconut and almonds into a food processor.
• Add the oil, honey and vanilla.
• Turn on the food processor and mix well for about 15 – 30 seconds or until combined.
• Add the water and process again.
• The addition of water will help the cookie (cookie? WTF . These are ANZACS biscuits not American cookies!) mixture stick together.
• Form into 20 small biscuits and place onto a baking sheet lined with baking paper.
• Flatten down ( as you should want do to your stomach after Easter) with enough room around each biscuit to spread ( like your stomach).
• Bake for 20 -30 minutes or until golden brown as an Hermes cuff.
• Cool completely before eating and munch away.