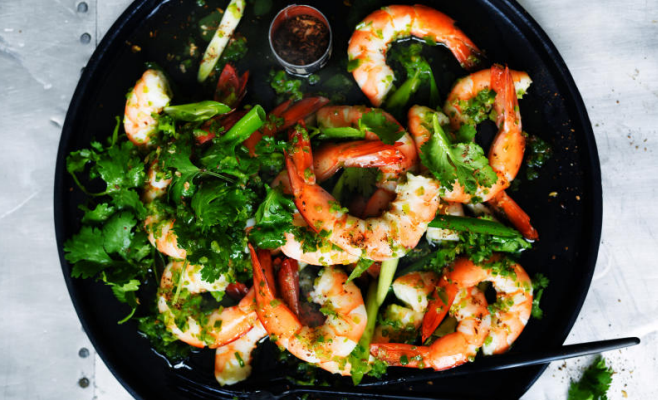 Tingling Prawns #neilperry.
|
Anything spicy with coriander, prawns and ginger gets a big tick from me.
You can pour this over a fillet of fish , prawns or even chicken.
Adulterated from Neil Perry and goodfood.
You need for 4 as an entree or part as shared meal:
3 fresh long green chillies, seeds removed, finely diced
3cm knob of ginger, finely chopped
½ bunch coriander, leaves picked, stems finely chopped
pinch of sea salt
½ tsp caster sugar
2 large pinches of roasted and ground Sichuan peppercorns
2 tbsp rice wine vinegar
1 tsp light soy sauce
60ml spring onion oil (see below)
700g cooked king prawns, peeled and deveined, tails on
3 spring onions, cut on the diagonal into 5 cm lengths
For the spring onion oil (makes about 150ml)
200ml vegetable oil
small handful of spring onion tops, roughly chopped
•    Pull on a chic ruffle black Chloe sundress
•    Slip into Alexander Wang silver mules.
•    Pour a glass of champagne.
•    For the spring onion oil thinly slice white ends of spring onions into rounds and reserve.
•    Chop green ends of onions and combine with oil in a small saucepan.
•    Cook over low heat for 10 minutes to infuse.
•    Infuse yourself with wine.
•    Cool to room temperature, then strain.
•    Transfer to a blender, blend until smooth, then strain through a muslin-lined sieve.
•    Place the green chilli, ginger, coriander stems, sea salt, sugar and a pinch of the Sichuan pepper in a mortar.
•    Pound to a paste with the pestle, then stir in the vinegar, light soy and spring onion oil to make a dressing.
•    Place the prawns in a bowl with the coriander leaves and spring onions.
•    Pour over the dressing, season to taste and mix well, then transfer to a plate.
•    Sprinkle another pinch of Sichuan pepper over the top and serve.
•    Yum.