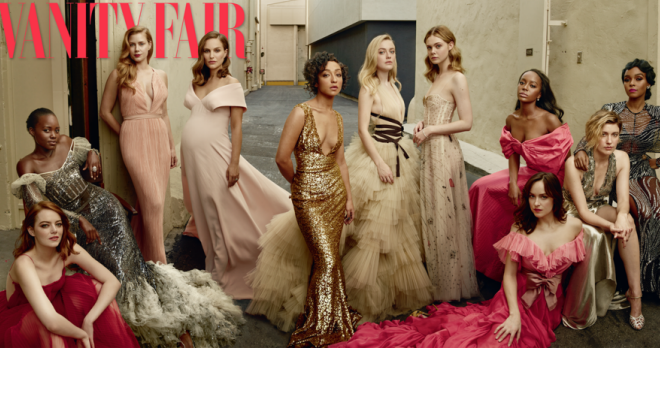 They said whaat?! Celeb quotes #VanityFairHollywoodissue.
|
It's the Vanity Fair 2017 Hollywood issue !
Featured on the cover are pregnant Natalie Portman, Amy Adams, Lupita Nyong'o, Emma Stone, Dakota Johnson, Ruth Negga, sisters Dakota and Elle Fanning, Greta Gerwig, Aja Naomi King, and Janelle Monae.
The eleven actresses photographed by Annie Leibovitz  have a total of twelve Oscar nominations total – and two wins.
"Wow, to be an actor, playing an actor, receiving an actor by a guild of actors, it's pretty exceptional." Emma Stone on winning Outstanding Performance by a Female Actor in a Leading Role at the SAG awards.
"Women will be hidden no more. We will not remain hidden figures. We have names." Janelle Monae at #WomensMarch referring to her movie 'Hidden Figures'.
"The romantic idea of meeting your person and having a storybook family life that looks like the model you grew up with — that doesn't really exist for me." Michelle Williams, on being a single parent at age 36, to WSJ Magazine 
"I work out. I do my best to eat well. I love the skin I'm in. And I'm not ashamed of a few lumps, bumps or cellulite … and you shouldn't be either." model Ashley Graham.
"One minute you're weirdly obsessed with this baby, like 'Don't take him out of my sight,' and the next you're kind of blue, you're a little sad and a little freaked out … I actually prefer the adoption way because I wasn't subject to hormones". Katherine Heigl, on her pregnancy.
"My goodness, look at this room, all these special people, I almost didn't get in. Seriously I didn't. They kept wanting to see my IDs. Well I think it was 'IDs' maybe it was 'double Ds' something like that. Glad to get that off my chest." Dolly Parton while introducing Lily Tomlin for her Lifetime Achievement Award at the SAG awards
"Don't leave the house when you're drunk. Don't be anxious about missing an opportunity." Lily Tomlin offering sage advice in her acceptance speech.
"My father fled religious persecution in Nazi-occupied France, and I'm an American patriot and I love this country, and because I love this country I am horrified by its blemishes, and this immigrant ban is a blemish and it is un-American." — Julia Louis Dreyfus attacking President's Trump's ban on immigration in her Outstanding Female Actor in a Comedy Series acceptance speech at the SAG awards.
" Help us, Obi-Wan Kenobi—you're our only hope," went the distress call beamed from Earth into the distant heavens after the election of Donald Trump, but no answer or hope has been forthcoming. (Carrie Fisher, whose Princess Leia summoned Obi-Wan at the beginning of Star Wars, died in late December) from Vanity Fair