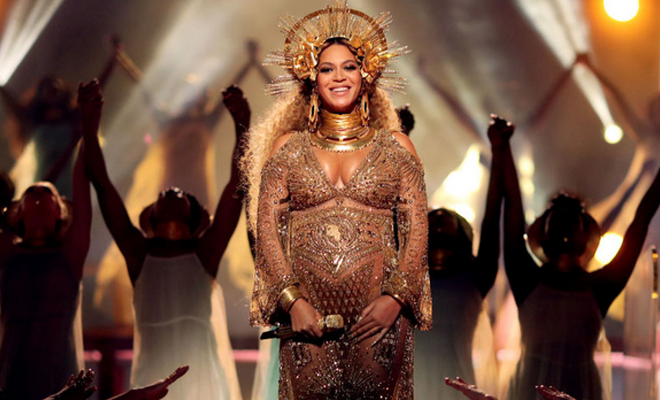 They said whaaat? #Grammys2017.
|
"Well you wake up, you throw up. You get in the car, you throw up again. And then you get to rehearsals." James Corden on how to host the Grammys
"I know it's live TV; I'm sorry I can't do it again, like last year. I'm sorry for swearing. I'm sorry for starting again. Can we please start it again? I'm sorry — I can't mess this up for him. I'm sorry, I'm sorry for swearing! I'm really sorry. Sorry." Adele, restarting her tribute to George Michael
"I will never forget sitting with my husband René when 'My Heart Will Go On' won the Grammy award for song of the year 18 years ago." Céline Dion, presenting the award for song of the year.
"I will never forget my first Grammy nomination, or the dress I wore that night." Jennifer Lopez, referencing her infamous 2000 Versace dress
"It's important to me to show images to my children that reflect their beauty so they can grow up in a world where they look in the mirror, first through their own families, as well as the news, the Super Bowl, the Olympics, the White House, and the Grammys, and see themselves, and have no doubt that they're beautiful, intelligent, and capable". Beyoncè, accepting the award for best urban contemporary album for Lemonade
"I can't possibly accept this award, and I'm very humbled and very grateful and gracious but my artist of my life is Beyoncé and this album for me, the Lemonade album is just so monumental. Beyoncé, it was so monumental and so well thought out and so beautiful and soul baring, and we all got to see a side of you that you don't always let us see and we appreciate that, and all us artists here adore you. You are our light!" — Adele, after winning the award for album of the year
"I made eye contact with Beyoncé and I almost peed myself" — Paris Jackson
.
"I would rather lose to nobody but Beyoncé." — OneRepublic's frontman.
"I perform in the first 45 minutes so I can just do it, get it over with, and then fangirl over Beyoncé the rest of the time." Kelsea Ballerini.
"I'm not sure I would even be able to talk. I was thinking about the very idea of possibly meeting her tonight and I just started crying uncontrollably." Laverne Cox envisioned a possible Beyoncé run-in.
"That's called taking care of your mental health." Katy Perry explains her time-out from recording new music.