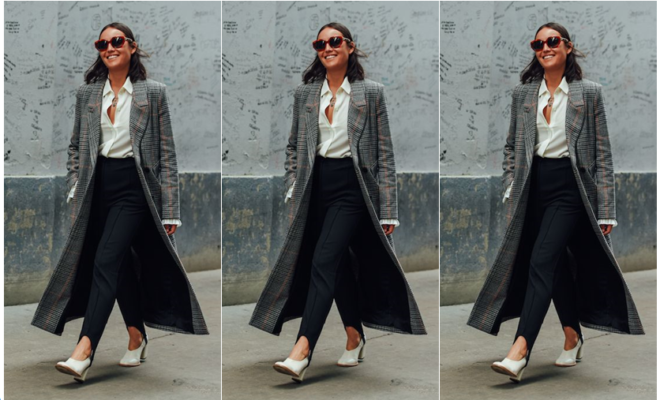 Steal Their Style ! #Princeofwales.
|
Oh la la ! It's freaking hot outside.
Which means you won't be throwing any winter clothes on any time soon.
But hello that's not stopping me from talking about them!
I am getting so bored with the usual suspects on repeat in my summer wardrobe.
And I am getting whipped into a frenzy seeing all the fabulous winter clothes instore. #yay
So today I am galloping straight into next season to shake you up a bit.
It's time to push you to the limits.
May I present ….stirrup pants.
Styled with – shock horror – white shoes.
Everybody keep calm !!!
I can hear you muttering already.
Noooo. Oh ma god. Not those. Whaaat?
But I love this outfit. I do. I do. I do.
It's got ticks in all the boxes.
The long coat, the new shape pants, the Nana white shoes. A classic white shirt.
It's a classic case of classics updated.
And because this style of coat is so cool
I am showing you another way to wear it below. (It's all due to the The Prince of Wales plaid seen first here at Balenciaga ) (The only print you will ever see on The FiFi Report!).
Toss it back with the Gucci slogan tee,  straight leg jeans, and red ankle boots.
BTW I warned you about stirrup pants here on The FiFi Report in 2014, years ago!
(Note to self: Listen to FiFi on the trends to invest in).
If you can't get your head around this total look -which incidentally I would wear both – then look at the new silhouette and do it your own way.
The important things ?
Get a long, long coat. Black straight pants. White shoes. Red ankle boots. Straight leg jeans and a slogan tee.  It's easy. But ne panickez pas I'll be showing lots more of these of the next months.
These two outfits are fabulous and I couldn't decide which to post so I've done both.
Now you can steal their style.
#Getshopping!
Check coat from Topshop at Nordstrom, Stirrup pants from Marni on sale also from ASOS,  or here at Veronika Maine , or at H&M, white shirt from Witchery and white shoes from Country Road or these Mansur Gavriel or these white heels from ASOS.
Check coat from Maje, Gucci tee or try here for all slogan tees at Etre Cecile, Straight leg jeans from Country Road, Red boots from YSL on sale or black ones here
Pics from fifireport pinterest
Save
Save
Save
Save
Save
Save
Save
Save
Save
Save
Save
Save
Save
Save
Save