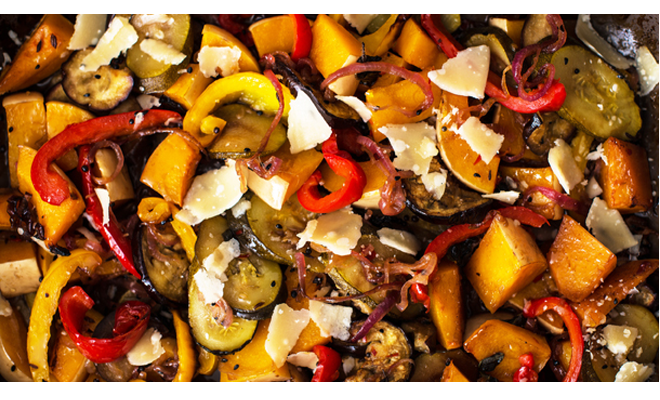 Roast Vegetables in Spiced Balsamic glaze #fastdiet.
|
This is so much more interesting than boring ol, daggy vegetables.
Because you sex it up by adding a few spices.
Plus it's low in calories and soooo good for you from the fast diet recipe book.
Add goats cheese if you so desire…adulterated fromgetthegloss.com
You need for 2,  almost as a main meal :
½ tsp cumin seeds
½ tsp nigella seeds
½ tsp mustard seeds
1 tbsp olive oil
1 red onion, sliced
3 garlic cloves, peeled and crushed
½ red chilli, finely chopped
1 red, 1 yellow, 1 orange pepper, sliced
1 courgette, thickly sliced
1 small aubergine, thickly sliced
1 small butternut squash, unpeeled, deseeded and cubed
fresh marjoram
juice of a lemon
1 tbsp good balsamic vinegar
Preheat oven to 220°C/425°F.
In a small frying pan, gently dry-fry seeds, then add oil and onion and cook until softened as an Hermes bag.
Add garlic and chilli and cook for a further 2 minutes.
Place vegetables in a roasting pan and stir in the spiced onion mix, marjoram, lemon and balsamic, making sure that everything is well coated. Like a Burberry trench coat.
Roast in the oven for 20-30 minutes, until caramelised as a Chloe bag and sticky as lipgloss.
Serve with a peppery green salad, plus a dollop of goats cheese.
Yum!