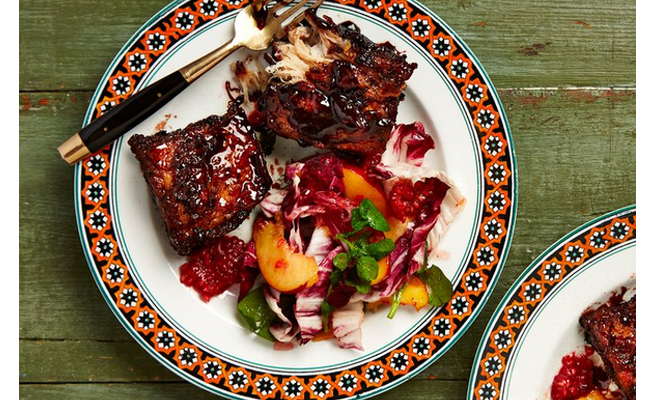 Peach, raspberry & watercress salad #Ottolenghi.
|
This is a great idea for a salad, simple, fresh and so summery.
It's adulterated from Ottolenghi who recommends to serve it with the five-spice pork belly ( see recipe here for that) which looks superb but I would serve it with roast chicken or salmon.
You need for 4 fashionista:
1½ tabsp cider vinegar
1 tsp maple syrup or honey
¼ tsp Chinese five-spice
1 tabsp olive oil
1 shallot, peeled and thinly sliced or red onion.
100g fresh raspberries
3 peaches, halved, stoned and each half cut into 0.5cm-wide wedges
40g watercress
½ small radicchio, leaves separated and cut into 2.5cm-wide slices
•    Pull on gorgeous Givenchy black lace dress.
•    Slip into amazing red Gucci kitten heels.
•    Open the wine and gulp.
•    Cook the chicken or the pork belly
•    Mix the vinegar, syrup, five-spice, oil, shallot and three-quarters of a teaspoon of salt, stir in the raspberries and crush slightly with the back of the spoon.
•    Put the peaches and all the leaves in a salad bowl.
•    Pour on the dressing and toss.
•    Serve two pieces of porkbelly – see recipe here -per portion with the salad alongside.
•    So chic and so yum !