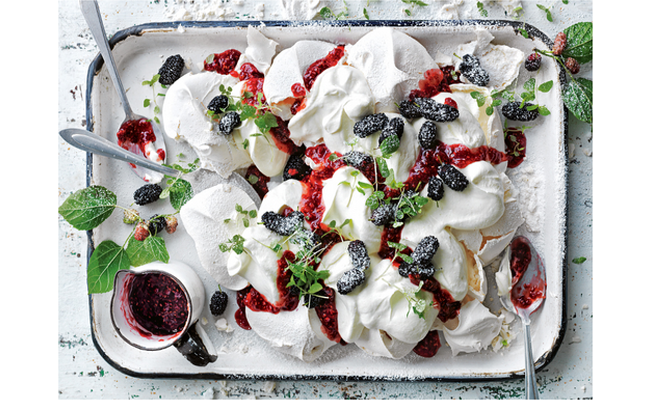 smashed pavlova with mulberries & roasted raspberry jam.
|
It's a great idea on Christmas Day if you want to ditch a hot Plum Pudding. 
Prepare it ahead of time and then do the accessorising with all the gorgeous berries and mint and lashings of cream just before serving . Thank you Donna Hay.
You need for 8 to 10 peeps on Christmas Day
225ml eggwhite (approximately 6 eggs)
1½ cups (330g) caster (superfine) sugar
1½ teaspoons white vinegar
1½ cups (375ml) single (pouring) cream
200g mulberries or cranberries
micro (baby) mint leaves, to serve
icing  sugar, for dusting
roasted raspberry jam if you want to make it !
•    500g raspberries
•    ¾ cup (165g) caster (superfine) sugar
•    1 vanilla bean, split and seeds scraped
•    Pull on Saint Laurent sequin jacket and Valentino pleat leather skirt
•    Slip into amazing satin Balenciaga jewelled shoes
•    Pour the Moet stat.
•    Preheat oven to 220°C (425°F).
•    To make the roasted raspberry jam – if you can be bothered otherwise just buy it – place the raspberries, sugar, vanilla bean and seeds in a small roasting tray and mix to combine.
•    Cook, stirring occasionally, for 25–30 minutes or until thickened as your waist will be after Christmas.
•    Set aside to cool completely.
•    Remove and discard the vanilla bean.
•    Reduce oven temperature to 150°C (300°F).
•    Place the eggwhite in the bowl of an electric mixer and whisk on high speed until stiff peaks form. Like the Saint Laurent shoulder pads.
•    Gradually add the sugar, 1 tablespoon at a time, waiting 30 seconds before adding another tablespoon.
•    Once all the sugar has been incorporated, scrape down the sides of the bowl and whisk for a further 6 minutes or until the mixture is stiff as a Vetements jacket and as glossy as Beyonce.
•    Add the vinegar and whisk for a further 2 minutes or until glossy and combined.
•    Place spoonfuls of the meringue onto a baking tray lined with non-stick baking paper to make a 22cm round.
•    Reduce temperature to 120°C (250°F) and cook for 1 hour.
•    Turn the oven off and allow the Pavlova to cool completely in the oven.
•    Place the cream in the bowl of an electric mixer and whisk to stiff peaks. Like your credit card bill.
•    Place the Pavlova on a large serving plate and crush slightly with the back of a large spoon.
•    Spoon over the cream and drizzle with the roasted raspberry jam.
•    Accesorise with the mulberries/cranberries/raspberries and mint, and sprinkle with icing sugar to serve.
•    Yum .