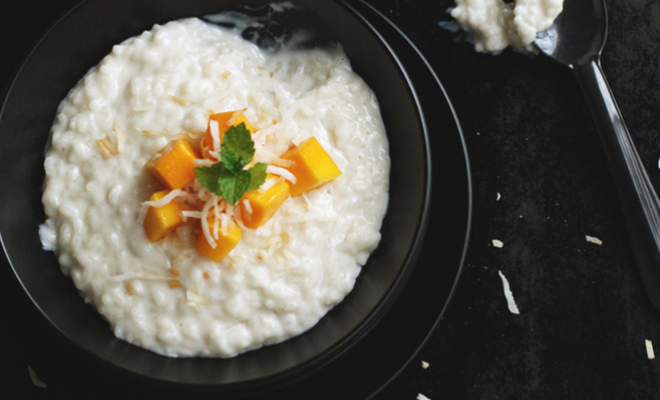 Sticky Rice Coconut pudding & Mango.
|
A luscious, creamy rice dessert made with coconut milk : It's like making a risotto but it's sweet and gooey. You can serve with juicy mangoes, nectarines or blueberries. Adulterated from Cook Republic and Bill Granger's Everyday Asian.
You need for 2 that's you and Bradley Cooper.
3/4 cup Thai jasmine or Arborio rice.
400ml can coconut milk
1/2 cup water
1 tablespoon vanilla extract
1/2 cup raw sugar
a pinch of salt
cubes of ripe mango, to serve
toasted coconut, to serve
mint leaves, to serve
•    Pull on beautiful black lace Valentino dress.
•    Open champagne and get drinking.
•    Place rice, coconut milk, water, vanilla extract, salt and sugar in a heavy bottomed – like you after eating this- saucepan on medium-low heat.
•    Cook, stirring constantly for 20 minutes until it comes to a boil.
•    Cook over low heat, stirring every few minutes, for about 20 minutes or until rice is cooked and most of the liquid is absorbed.
•    The rice should be soft and cooked at this point but cook longer if you want it softer like a Gucci bag and more gooierierier (!).
•    You may need to add another can of coconut milk if it gets too dry which is what I did.  You don't want it to stick to the bottom. You don't want anything to stick to any bottom.
•    Remove from heat – the rice not your bottom – and let it cool down slightly . It's nice to serve it warm or you can let it cool completely before chilling in the fridge for a couple of hours.
•    You can make a syrup with water and brown sugar and then drizzle that over the top before serving.
•    Accessorise with fruit such as mango cubes and then scatter over toasted coconut flakes and fresh mint leaves.
•    To toast coconut flakes, heat a frying pan and dry roast store bought coconut flakes for a few seconds until they are browned around the edges.
•    Yum.