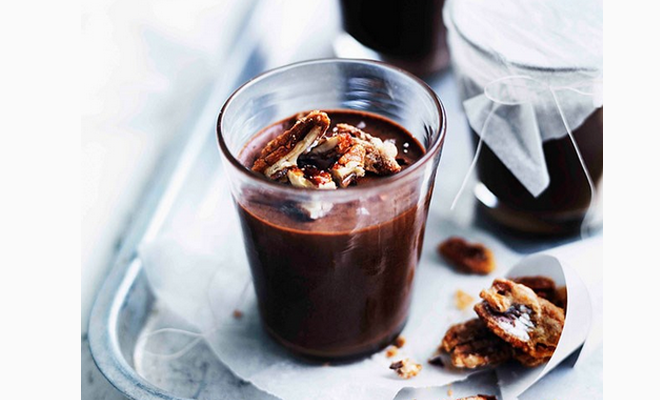 Chocolate and olive oil mousse with spiced nuts #gourmettraveller
|
A new ( healthy?) way to make chocolate mousse, with olive oil and a dash of espresso and spiced nuts.
It's easy, rich and delicious with a little spice adulterated from Gourmet Traveller.
You'll need for 6 fashionista or 32 models:
200 gm dark chocolate (55% cocoa solids), finely chopped
120 ml extra-virgin olive oil
4 eggs, separated
80 gm raw caster sugar
20 ml espresso coffee
20 ml Bourbon (optional).
Spiced pecans
80 gm (2/3 cup) pecans, walnuts any nuts you like.
25 gm pure icing sugar, sieved
1 tsp Bourbon
¼ tsp dried chilli flakes
Pinch of ground chilli
•    Slip into Joseph white boxy tee and camel drawstring pants.
•    Pull on Celine mules.
•    Pour a wine and guzzle.
•    Chop up chocolate and taste to make sure it's delicious.
•    Melt chocolate in a heatproof bowl over a saucepan of simmering water, stirring occasionally, until smooth  as a Chanel bag (2-3 minutes),
•    Add oil in a thin, steady stream, stirring to combine, and set aside.
•    Whisk yolks and half the sugar in an electric mixer until thick and pale as your legs will be after eating this. (2-3 minutes).
•    Fold the chocolate mixture, coffee and Bourbon into the yolk/sugar mix and set aside.
•    Put bourbon back in fridge. Now
•    Whisk 2 egg whites (reserve remaining eggwhites for another use) and a pinch of salt in the clean bowl of an electric mixer until soft peaks form (1-2 minutes), gradually add remaining sugar and whisk until glossy as your Isabel Marant patent trench (1-2 minutes).
•    Fold the egg whites gently into the chocolate mixture with 1 tsp sea salt.
•    Divide among six 200ml serving glasses and refrigerate until firm as you're your face after Botox (2-3 hours).
•    Meanwhile, for spiced nuts, preheat oven to 180C.
•    Combine ingredients in a bowl with ½ tsp sea salt, spread on an oven tray lined with baking paper, bake until golden and crisp (4-5 minutes) and cool to room temperature.
•    Coarsely crumble to accessorise over the mousse
•    Get into it.