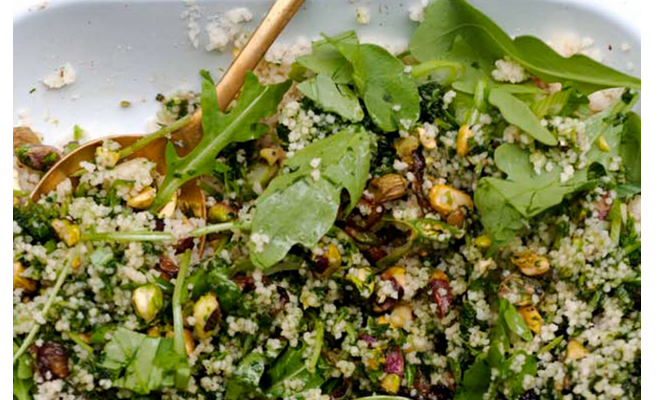 Green Couscous #Ottolenghi #Plenty
|
Love this salad ! Crunchy, tasty and healthy it looks fabulous too.
It's a new way to serve couscous:  you make the herb paste and then toss it through and covering it all and turning it green.
It's adulterated from Ottolenghi 's book Plenty who says to serve it with poached baby vegetables or with fish.
I ditched the chilli , swapped almonds for the pistachios and sprinkled through some smashed coriander seeds. Ottolenghi says adding some feta will make it a bit more substantial.
You need for 4 fashionista or 25 models:
150g couscous
160ml boiling water or vegetable stock
1 small onion, thinly sliced
1 tbsp olive oil 1/2 tsp salt
1/4 tsp ground cumin
50g pistachios, shelled & toasted or almonds.
3 spring onion, finely sliced
1 fresh green chilli*, thinly sliced
30g rocket, chopped
1 teasp of coriander seeds.
Herb Paste
20g flat-leaf parsley
20g coriander
2 tbsp tarragon
2 tbsp dill
2 tbsp mint
90ml olive oil
•    Pull on your Balenciaga stripe shirt a la caftan
•    Pour a wine or three.
•    Ask Bradley Cooper to slice the onions, spring onion, chilli if using, the rocket and then chop the almonds roughly.
•    Smash up the coriander seeds (optional).
•    Cook the couscous as you usually do or you can toss it in a large bowl and cover with the boiling water or stock.
•    Cover the bowl with plastic wrap and leave for 10 minutes.
•    Meanwhile, fry the onion in extra virgin olive oil on medium until golden as an Hermes cuff and completely soft like an Gucci bag.
•    Add the salt and cumin and mix well. Leave to cool slightly.
•    To make the herb paste, place all the herb ingredients in a food processor and blitz until very green and smooth as your skin after La Mer.
•    Add the herb paste to the couscous and mix everything together well with a fork to fluff it up.
•    Now add the cooked onion, the nuts, green onions, green chilli (optional), coriander seeds (optional) and arugula and gently mix.
•    Make sure you add lots of salt and pepper.
•    Accessorise with more coriander leaves and a few almonds.
•    Serve at room temperature
•    Divine !