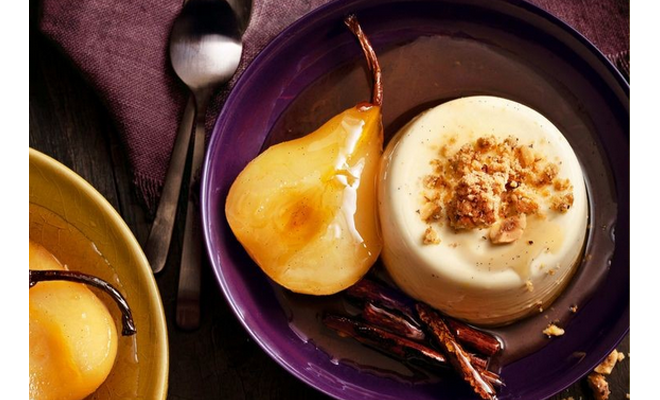 Creme fraiche pannacotta with poached pears.
|
A sensational but easy dessert to make ahead of time, so it's prefect for a dinner party : Then you can relax. Adulterated from delicious. And it is.
You need for 6 but make a few more because they will want more !
•    600ml pure (thin) cream
•    1 1/2 cups (330g) caster sugar
•    3 gold-strength gelatine leaves
•    200ml creme fraiche
•    3 pears, peeled, halved, cored (stems intact)
•    1/2 lemon
•    1/2 cup (125g) brown sugar, firmly packed
•    1 vanilla bean, split, seeds scraped
•    1 cinnamon quill
•    1/3 cup (35g) flaked almonds, lightly toasted
•    ¼ of a preserved lemon ( I added this in and ditched the cinnamon quill because it would have been too strong)
•    Pull on Balenciaga sweater and stirrup pants
•    Pour a wine or two.
•    Combine cream, 1/3 cup (75g) caster sugar in a pan over medium heat, stirring until sugar dissolves.
•    Remove from heat.
•    Stand for 10 minutes to infuse. That's you and the wine. And the cream mix.
•    Meanwhile, soak gelatine in cold water for 5 minutes to soften.
•    Squeeze out excess water. Stir gelatine into cream until dissolved.  Sadly your thighs won't be after eating this. Cool slightly.
•    Add creme fraiche to cream and whisk until smooth.
•    Divide among six 150ml dariole moulds or just pour into chic glasses.
•     Chill for 4 hours or until set. That's you. And the pannacotta.
•    Rub pears with the preserved lemon.
•    Place brown sugar, vanilla pod and seeds, cinnamon quill ( optional) and 2/3 cup (150g) caster sugar in a pan over low heat.
•    Stir until sugar dissolves.  Note: It's going to go all treacly and hard but then it will dissolve and go soft and gooey but don't let it burn.  Don't add water because it will splatter everywhere.
•    Add in pears and the sliced up preserved lemon. Make sure pears are covered with the sugar. Tip; you could add in a little water now.
•    Then cover surface with baking paper –  kink of tuck in and cook for 20 minutes or until tender.
•    I left the pears to marinate in the syrup. But the recipe says you can remove pears and then increase heat to medium and cook liquid for a further 10-15 minutes until reduced and syrupy.
•    Return pears to pan. Set aside to cool.
•    Serve with the pannacotta and praline almonds recipe here.
•    Delicious.