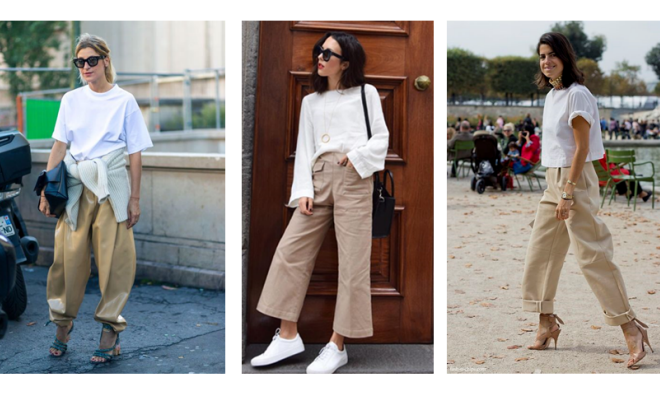 Chinos + white Tee =summer uniform.
|
Is there anything easier than this?
Grab chinos, toss on a boxy tee shirt et voila !
Here's the thang:
The pants can be wide or narrow.  Whatever suits you.
They might be with a high waist or low key.
But they should be in beige/taupe/neutral .
They should be in cotton. They're chinos after all.
They should be cropped and slouchy. (always go for a size bigger).
This summer's essential piece has to be the boxy tee.
I am living in them since the warm weather started.
But you know that because I've been banging on about a white boxy Tee for 2 years now. (You have probably worn out the first one and now need a top up. #Nopun).
It should be in white, but it could be in black.
Then to finish the look?
Shoes of course ! They make or change your look #fifimantra.
Add white, black or tan shoes.
Heels, flats, sneakers or block heels. Whatever suits your mood.
That's the great thing about chinos. They love and adore heels and flats equally.
Check out the street style shots below and you will get the drift.
It's a look that works on any age or shape. Shut up!
What's not to love?
Chinos + Tee = chic !
Get shopping:
Boxy tees from Uniqlo ( I bought this) Needsupply and Cos stores ( I bought this one too) and Camilla and Marc.
Chinos from J Crew, Net aporter, Cotton on.
Stylebop, Matches, Country Road and love these from Uniqlo (not shown)and try Marni at Matches and H&M