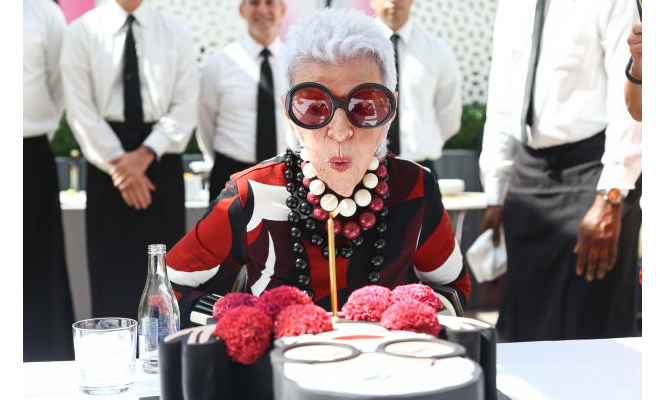 Happy 95th Birthday Iris ! #bestquotes.
Businesswoman, documentary film subject and all-around fashion legend Iris Apfel celebrated her 95th birthday this week!
"I'm not a fashionista. I have another life."
"I think that's stupid. I think a lot of designers create very expensive clothes for women [in their] 60s and 70s — people who wear them — and they create them for 16- and 18-year-old bodies. The kids can't afford to buy them and the women look like a horse's ass if they put it on. So it's all out of whack."
"I think if a woman has her own style and knows who she is, she doesn't have to dress for being 60 or 20 or 90″.
" I mean, there are just some certain things that older women shouldn't do. But otherwise, I don't think there are any rules".
"Older women shouldn't show excess flesh. They should wear sleeves. They shouldn't wear mini skirts. They shouldn't wear very high heels. They shouldn't wear too much makeup. They shouldn't have long, flowing hair. Things like that which are just common sense."
"Well, it's not my place to stop them. You're asking me my opinion. If they want to show it off, be my guest. I want you to be happy. I always say it's better to be happy than well dressed" .
"Do your own thing. I don't sit and judge anybody. I don't like rules and regulations, but these are just some common sense things. I think it's nice to look in a mirror once in awhile."
"You work hard. Be happy. Live each day as it comes. Live everyday as though it will be your last and one day you'll be right.
Too many people just retire from life. It's obvious, isn't it? If you don't walk you won't be able to walk anymore. You'll atrophy. If you don't want life then you retire from it. If you want to have a nice life, participate. If you're not interested, you can't be interesting."
"You do one thing and it leads to something else, and the man upstairs has been very good to me and has sent me a lot of interesting projects, which I work very hard at. I'm a very very hard worker, and I work hard and people tell me do more than people less than half my age."
from Fashionista.com and from forbes.com