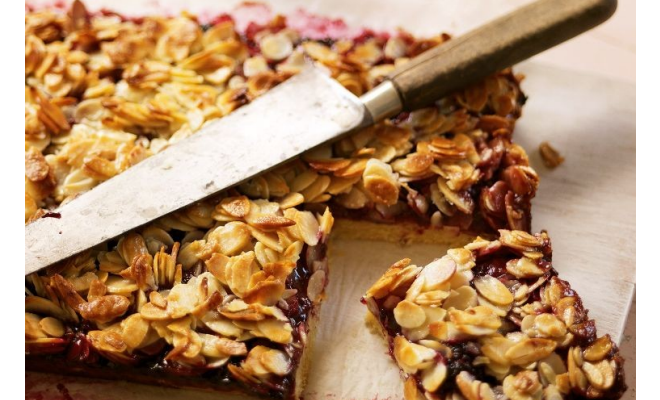 Almond and blackberry slice #BillGranger.
|
This is an easy to whip up almond blueberry slice: the sneaky trick is to use some jam !
Then the drizzle of caramelized almonds makes it seriously delicious.
Adulterated from Bill Granger.
You need to make 20:
200g flaked almonds
2 tabs milk
225g unsalted butter
3/4 cup (165g) caster sugar
2 tsp vanilla extract
1 1/2 cups (225g) plain flour
1/3 cup (50g) cornflour
1/2 cup (160g) blackberry or blueberry jam
1 cup (150g) thawed frozen or fresh blackberries or blueberries
•    Slip into YSL leather dress.
•    Pull on YSL heels.
•    Preheat the oven to 180°C.
•    Lightly moisterise a 20 x 24cm slice pan and line the base and sides with baking paper.
•    Place the almonds, milk, 60g of the butter, 1/4 cup (55g) caster sugar and 1 teaspoon vanilla extract in a saucepan, and stir over very low heat until the butter has melted and sugar has dissolved.
•    Remove from the heat and set aside to cool.
•    To make the shortbread base, place the remaining butter, sugar and vanilla extract in the bowl of an electric mixer and beat until thick and pale like your legs are after winter.
•    Sift the plain flour and cornflour together into a bowl, then in 2 batches, add to the butter mixture and beat on low speed until just combined.
•    Press the dough into the prepared pan and bake for 10-12 minutes until light golden as anHermes bag.
•    Remove from the oven and allow to cool for 10 minutes.
•    Place the jam and blackberries in a bowl and lightly crush with a fork. As Angelina wants to do to Brad.
•    Spread the jam mixture over the base, then pour over the cooled almond topping.
•    Bake for 25 minutes or until the topping is golden brown.
•    Cool the slice completely in the pan, then remove from the pan, cut into twenty 5cm squares and serve.
•    Yum.