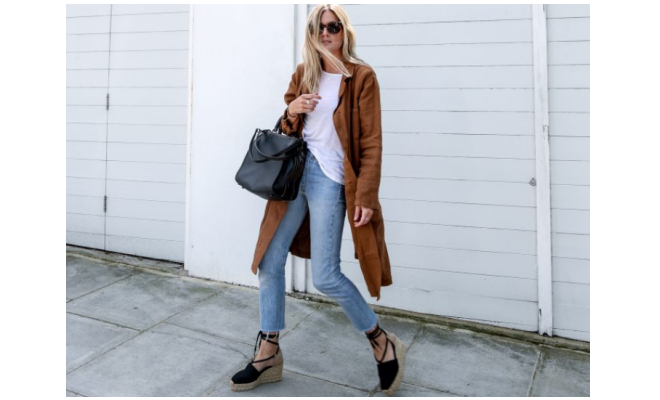 Steal her style !
|
It's definitely a season for jeans and a white t-shirt.
THE most important foundation items in your wardrobe.
Whatever age or shape you are. Yes, I am talking to you.
But not just any old jeans or daggy tee shirt. NO!!
It's all about faded jeans with a straight leg – or flares – cropped and frayed.
NB: High waist jeans look more modern plus they hold everything in. Thankyou.
You want a white slouchy tee. With a round neck. Half tucked.
Toss on a long coat (it's fresher than a blazer) but make sure it's in a contrasting colour like choc brown or tan. In suede or linen.
Add black wedge espadrilles, the best casual shoe with height you'll ever find.
Grab your favourite black tote.
Voila ! Trans-seasonal casual dressing sorted.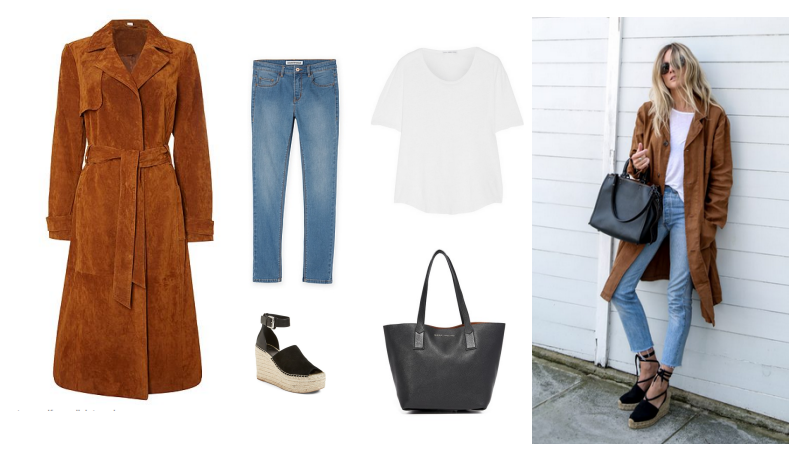 Your shopping list:
Tan suede coat ( great price) from House of Fraser, Reiss, John Lewis or linen coat pictured from The Iconic.
Jeans from Country Road or try these vetements style jeans at Urbanoutfitters white tee shirt from James Perse.
Espadrilles from Nordstrom.
Black bag by Marc Jacobs -$519 at shopbop
*Pic from FiFiReport pinterest.
Save
Save
Save
Save
Save
Save
Save
Save