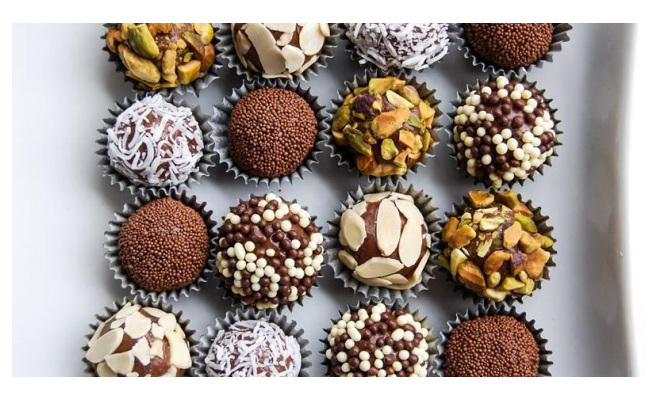 Brigadeiros ! Brazilian goodies. #Olympics.
|
In celebration of the Olympic games in Rio this week it's time to whip up Brigadeiros. Apparently these lovely little dollops of gooey sweetness are a Brazilian classic and there isn't a birthday party or a wedding celebration where the brigadeiros are not given out ….adulterated from bettycrocker.com

You need for 30 fudge balls for about 30 models:
1 can sweetened condensed milk
1 tablespoon butter
4 tablespoons unsweetened cocoa powder
100 g chocolate sprinkles
Small paper baking cups
To decorate:
50g toasted chopped pistachio
50g flaked almond
50g desiccated coconut
or any other sprinkles you love.
•    Slip into Stella McCartney track pants and Vetements Hoodie.
•    Pull on Gucci sneakers.
•    Toss on Isabel Marant gold medal necklace.
•    In a cooking pot, mix condensed milk and cocoa powder until smooth.
•    Add butter.
•    Moisterise a round dish generously with butter and set aside.
•    Cook the mixture in medium-low heat and ALWAYS stir with a wooden spoon or a spatula, making sure you keep the mixture from sticking on the edges and bottom of the pan.
•    Cooking time is around 11-13 minutes. Remove from heat when the mixture clearly separates in two when you pass the spoon or spatula through the middle (side to side of the pot) and it takes a bit to join back together.
•    Pour mixture into greased dish and let it cool to room temperature.
•    Get out sprinkles – nuts, chocolate, coconut- in bowls ready to roll.
•    Grease hands and scoop some of the brigadeiro mix with a spoon to form 3 cm balls with your hands.
•    Drop into sprinkles bowl and roll until completely covered.
•    Place in baking cups.
•    Let the Brigadeiros set a little and then eat, eat, eat! #GoforGold.
•    If you have any left it's a good idea to store in an air tight container in room temperature for 2-3 days (recommended). You can also store them in the fridge for a longer time.
Tip : you can make a Nutella version by replacing cocoa powder with 150 g of Nutella , or White Chocolate by replace cocoa powder with 100 g of white chocolate (melted), cooking time increases a bit.