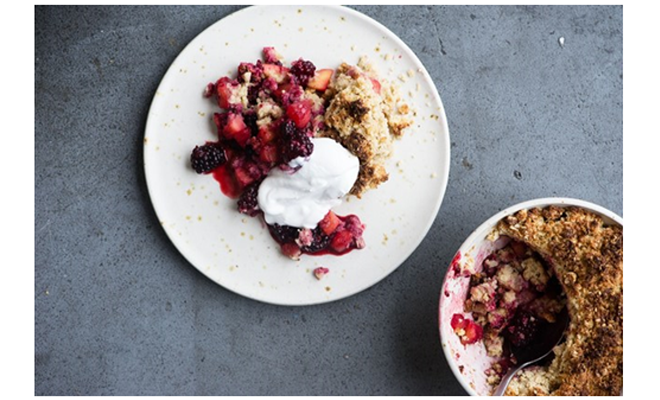 Blackberry & apple crumble with coconut yogurt.
|
Winter means cooking crumble.
This is a delicious berry and apple crumble with a few added goodies like almonds and star anise… from  Vogue UK.
You need for 2 : that's you and Bradley Cooper:
3 dessert apples, peeled, cored and sliced
100g fresh raspberries or blackberries or blueberries (or all three!)
1  cinnamon stick
1 star anise
1 tsp runny honey
For the crumble:
100g porridge oats
50g ground almonds whizz your own, it's so much tastier.
25g plain flour
1 tsp rapeseed oil
2 tabsp runny honey
A pinch of ground cinnamon
Coconut yogurt or cream to serve.
•    Slip into Valentino sweater dress.
•    Pull on Celine boots.
•    Pour a wine and inhale.
•    Preheat the oven to 200°C/180°C/gas 6.
•    Ask Bradley Copper to chop, peel and core the apples.
•    Then toss the apples, half of the berries, the cinnamon stick, star anise, honey and 80ml water in a saucepan on a medium heat and bring to a simmer.
•    Simmer gently for 10 minutes, adding more water if necessary.
•    Add more wine to your glass if necessary.
•    Remove the cinnamon stick and star anise, and pour the fruit into an ovenproof dish about 18cm by 12cm.
•    Scatter the rest of the berries over the top.
•    To make the crumble, combine all the ingredients in a large mixing bowl and mix together thoroughly, using your fingers.
•    Cover the fruit with the crumble.
•    Bake in the heated oven for 20-25 minutes until the crumble topping is as golden brown as a Prada bag and as crisp as new amex .
•    Drizzle with coconut yogurt or lashings of good old fashioned cream .
•    Yum.