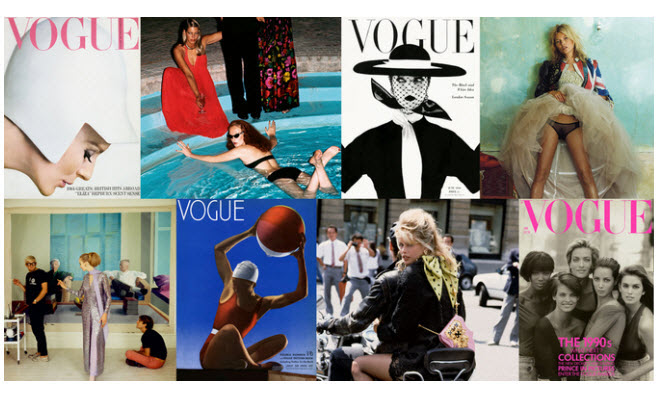 Vogue 100: A Century of Style #hotbok
|
If you are heading to London you must check out the fabulous new exhibition Vogue 100: A Century of Style at the National Portrait Gallery.
In the meantime you can buy this fabulous book which has been published to mark British Vogue's centenary and to accompany this amazing exhibition.
'Decade by decade, Vogue 100: A Century of Style  celebrates the greatest moments in fashion, beauty and portrait photography. Illustrated throughout with well-known images, as well as the less familiar and recently rediscovered, the book focuses on the faces that shaped the cultural landscape: from Matisse to Bacon, Freud and Hirst, from Dietrich to Paltrow, from Fred Astaire to David Beckham, from Lady Diana Cooper to Lady Diana Spencer. It features the fashion designers who defined the century – Dior, Galliano, Balenciaga, Saint Laurent, McQueen –and explores more broadly the changing form of the twentieth-century woman.'
The show was curated by Robin Muir who writes a fascinating article here in the February issue of Britsh Vogue on hunting down the photos.
He writes " As curator, I have looked through every issue of British Vogue, as well as many American and French Vogues (and, from the Twenties, the short-lived Vogue Argentina and the Weimar-era German Vogue that almost bankrupted Condé Nast). About 1,800 issues of the magazine in all.
The historic names in Vogue 100 are the great ones – not just of fashion and portraiture, but of photography in the modern age: Cecil Beaton, Edward Steichen, Irving Penn, Charles Sheeler, Lee Miller, Erwin Blumenfeld, Man Ray. It felt fitting to show their work in the form they had originally presented it, despite the patina of age.
From 1946 on, Vogue's history is largely intact. Not so before then. The story goes that at the French office, during some redecoration, the contents of the archives spilled on to the street in rubbish bags. Apocryphal? In an age when photography was barely collected and magazine photography not at all, possibly not.
Dead photographers tend, on the whole, to be more accommodating than the living, but I found the latter pliant and agreeable – and the past something else entirely. At British Vogue, officially, the past didn't exist. That's because in March 1942, the magazine recycled its archive to  help the war effort. The Steichens, Sheelers and de Meyers, Horsts and Beatons, all gone." Yikes !
Read the entire article here.
Picture credit from BOF.
Vogue 100: A Century of Style from  Book Depository or buy it here 
The exhibition is at the National Portrait Gallery, WC2, London to May 22.