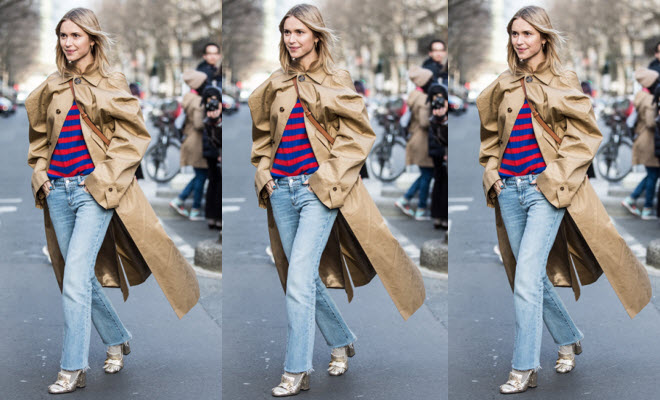 How to wear the new LONG trenchcoat #luxetoless.
|
The stars have aligned.
Or should I say the clouds.
It's raining. And I am lusting after trenchcoats.
Of course who cares if it's sunny or pouring down you can always wear a trench.
Day, night, weekends, work, to the Opera or hopping on a plane it's all you need.
And can we talk about how it's perfect to throw over your activewear (!) for an instant I-am-OK-to-grab-a-coffee-and-be-seen- in-public-now look. #yesyoucan.
Here's the thang:
This season the trench is getting really LONG.
We are talking over the knee, heading to mid shin and longer. To floor length.
It looks new. It looks chic. It looks juicy and extravagant and rich. We like that.
It can be oversized like the Vetements trench or at least in a very generous shape.
You can see what I mean from my street style pics below straight from les rues de fashion week a Paris.
Oh la la : It's THE hot item du jour #Yay.
Go for classic navy , black, grey, khaki and of course beige.
What's great about a trench? It's transeasonal. Meaning you can wear right now, like totally today, over a T shirt and jeans. Come winter layer over a knit and black leather leggins. Done.
Styling tip #1: Double breasted is best and you know why?
Because when it's worn undone it still sits across the body. This means it covers what I call the 'situation' (or as you might call the muffin area).
Styling tip #2 : if you are height challenged anything really long will make you look like the incredible shrinking woman. Bless.
Styling #3 : Don't cry: Invest in a standard issue trench in a bigger size and wear it just sitting on your knee.
Now #getshopping for ten fabulous trenchcoats from Luxe to less.
Your shopping list:
Isabel Marant,  Elizabeth&James, Theoutnet.
Asos, Scanlan & Theodore, Veronika Maine.
Net a porter, Vetements, Bassike and try Alexander Wang at Revolve.