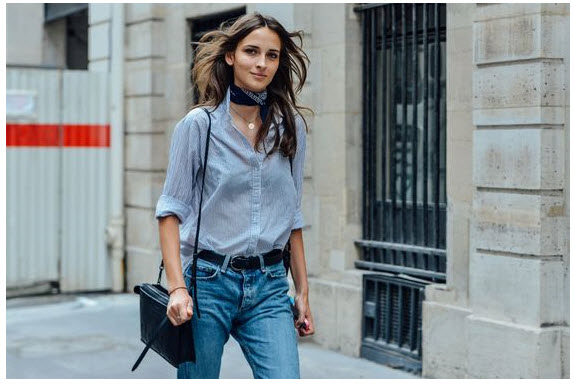 Styling trick of the week: Analyze this.
|
Need a little help styling your jeans and shirts?
Voila !
Here is a great effortless look which gets ticks in all the right places.
Yes, she is wearing jeans and a shirt.
But not any old jeans and shirt.
It's the way it's worn that's the difference between daggy and looking on point.
Let me dissect the look :
The shirt is big and loose and it's worn tucked in.
The sleeves are rolled up.
The buttons are undone just so to reveal the neckline. A little.
The jeans sit higher on the waist. And they're baggy.
The belt in jean is back !
The shoulder bag is small and boxy and sits on the shoulder.
The small knotted paisley neck scarf ( the hot accessory !) is nonchalantly tied at the neck.
The necklace is a small but sits purposely under the scarf.
Note no other significant jewellery.
Got it? #Daggynomore
It's the stying tricks of the week !