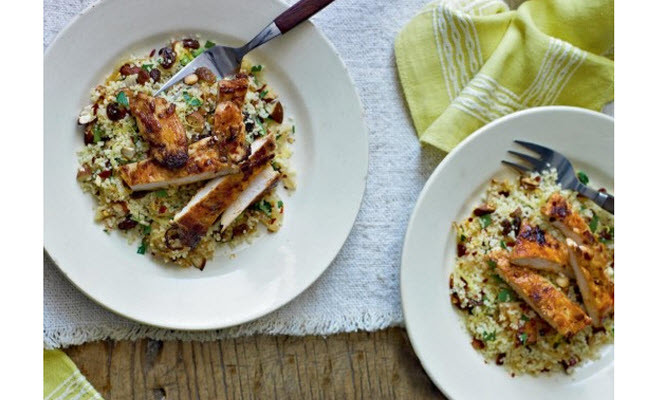 Harissa Chicken & Couscous. #getcooking.
|
This is a very delicious spicy chicken dish. It's pretty damn easy to whip up.
The trick is to add some preserved lemon to the harissa and a make a relish a la Ottolenghi and then add lots of butter to the couscous.
You can't go wrong. Yum.
Adulterated from Delicious magazine.
You need for 4 fashionista and 36 models:
250g couscous
400ml fresh chicken stock
Grated zest or half a preserved lemon
Juice of one lemon.
2 skinless chicken breasts
1 tbsp harissa ( more if you like spicy)
1 tbsp olive oil
Big fat knob of butter
1 onion, thinly sliced
½-1 tsp chilli flakes
50g sultanas
50g nuts, such as skin-on almonds, toasted and chopped
½ small bunch of fresh curly parsley, chopped plus coriander because I love it.
•    Slip into white Balenciaga dress.
•    Pull on your new Marni mules.
•    Sock down a white wine. Or two. Hic.
•    Place the couscous in a shallow bowl and pour over the hot stock and the lemon juice.
•    Stir, cover and set aside to have a lovely rest.
•    Grab the chicken breasts, place between 2 sheets of cling film and flatten by bashing with a rolling pin.
•    If only that would work on your stomach.  Don't try this at home.
•    Remove the chicken from the cling film – duh – then brush all over with the harissa relish and a bit of preserved lemon and season.
•    Pop on Dior sunglasses and waterproof mascara and then chop up the onion. Set aside.
•    Toast the almonds and then pull out the sultanas and set both aside ready to toss in later.
•    Chop up the parsley and coriander ready to toss on. That's toss on the couscous not on you.
•    Heat the oil in a pan and fry the chicken for 2 minutes on each side until cooked through and as golden as Gigi Hadid.
•    Set aside to rest, covered in foil. That's the chicken not Gigi.
•    Add a big fat knob of butter to the pan, then the onion and soften for 5 minutes, stirring occasionally.
•    Add the chilli flakes and cook for 2 minutes more.
•    Fluff up the couscous with a fork, and stir in the buttery onion mixture, along with the lemon zest, sultanas, nuts and parsley.
•    Taste and season, if necessary.
•    Slice the chicken, and arrange it ever so chicly on top of the couscous.
•    Accessorise with coriander and any leftover drizzle relish juice. Yum